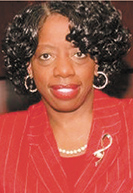 By Judie Hawley Conley, Marion County Prosecutor's Office
The 2022 IndyBar Bench Bar Conference will once again showcase both legal education and an opportunity for fun and networking! Saturday's closing plenary session will be the second annual Juneteenth holiday Celebration: The Spirit of Our Journey. This year, our program goal is to provide insight into the historical significance of the Juneteenth holiday by engaging in a conversation. We hope to stimulate thought-provoking discussion and raise awareness of the Juneteenth holiday. The IndyBar is committed to increasing its efforts in the area of diversity and inclusion, and this Juneteenth holiday Celebration is once again being planned toward those efforts.
This year's Juneteenth holiday Celebration will kick off with a jazz brunch. The roots of jazz reach back to the slave trade, with African American music comprised of many genres such as negro spirituals, blues, narrative ballads and ragtime. The defining characteristic of jazz is freedom of expression. At the same time that the fight against oppression evolved and the battle for equity through democracy was born, jazz emerged as an integral part of the social justice movement. We will pay tribute to jazz as one of the cultural foundations of American music. As we enjoy a delicious breakfast buffet, we will be entertained by a local live jazz band. This fun brunch will be the ideal prelude before we explore an in-depth analysis of the historical perspective of the Juneteenth holiday along with the current issues of law and race in our American society as they exist today.
Juneteenth is the oldest nationally celebrated commemoration of the ending of slavery in the United States. Thanks to the efforts of the late Honorable Representative William Crawford and other statewide legislative, religious and community leaders, Indiana became the 34th state to approve a resolution celebrating the Emancipation Proclamation and urged the establishment of June 19 as Juneteenth National Independence Day. Juneteenth is currently recognized by 47 states and the District of Columbia as a state holiday or observance. It celebrates the emancipation of those who had been enslaved in the United States.
Originating in Galveston, Texas, it is now celebrated annually on the anniversary date of the June 19, 1865, announcement by Union Army General Gordon Granger, which proclaimed freedom from slavery in Texas.
Today, Juneteenth commemorates Black freedom and emphasizes education and achievement. It is a time for reflection and rejoicing, assessment and self-improvement, and for planning the future. Its growing popularity signifies a level of maturity and dignity in America long overdue. In cities across the country, people of all races, nationalities and religions are joining hands to truthfully acknowledge a period in our history that shaped and continues to influence our society today.
The Juneteenth holiday Celebration includes all races, ethnicities, religions and nationalities. It is a time for reconciliation and coming together as all citizens across the country acknowledge a period in our history that has influenced our society and continues to advance the ideals of liberty and justice for all. Whether you seek to learn about this significant period of our American history for the first time or strengthen your present understanding of it, you will not want to miss this closing plenary session at Bench Bar. You will come away from it enlightened and empowered with a greater awareness of the Juneteenth holiday Celebration. I can't wait to see you in Louisville! Sign up to attend Bench Bar, from June 16 to 18 in Louisville, at indybar.org/benchbar.•
Please enable JavaScript to view this content.