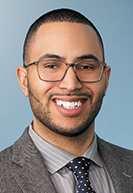 By Julian Harrell, Faegre Drinker Biddle & Reath LLP
Give yourself a moment to consider the most valuable traits for enduring turbulence and volatility. The characteristics that surfaced for me were resilience, courage, optimism and generosity.
What comes next is no surprise – we are, in fact, living in a turbulent and volatile season. We are reminded frequently about the pandemic and a host of other issues. In the midst of this storm, it is too easy to forget to be present – that our decisions today shape our tomorrow. I am certain that we have the power to define our days – and our legacy – by exhibiting resilience, courage, optimism and generosity.
But there are moments when I lose sight of that certainty, especially when I feel imprisoned in "COVID-19 confines." In those moments, I find strength and encouragement in the life and legacy of Nelson Mandela. Although we have all trudged through a long two-year "lockdown," Mandela served a 27-year prison sentence. Before you keep reading, give yourself a few moments to imagine that existence. It is mind-bending to try and fathom how Mandela spent every waking moment in a hostile, spartan prison while suffering the unrelenting brunt of apartheid brutality.
Perhaps even more remarkable is Mandela's perspective, eloquently encapsulated by this quote:
"I have walked that long road to freedom … I have discovered the secret that after climbing a great hill, one only finds that there are many more hills to climb. I have taken a moment here to rest, to steal a view of the glorious vista that surrounds me, to look back on the distance I have come. But I can only rest for a moment, for with freedom come responsibilities, and I dare not linger, for my long walk is not ended."
There is so much power and wisdom in Mandela's words. We should of course take time to relish our own vistas – the accomplishments, triumphs and outcomes for which we work so diligently. But Mandela's quote also has massive implications – what "responsibilities come along with freedom?" His words echo notions of resilience, courage and optimism. And if we look closely, we see that Mandela also speaks of generosity. We must give ourselves the opportunity to rest. We must give ourselves encouragement to forge ahead.
As we approach the Indianapolis Bar Foundation Day of Giving this year, we can draw inspiration from Mandela and have absolute certainty that our gifts, entrusted to the IndyBar Foundation, will continue to hit the mark during these particularly volatile times. The Indianapolis Bar Foundation leadership has increased its generosity during the pandemic to meet critical needs in the community. For any skeptics, the numbers don't lie.
In 2020 and 2021, the IndyBar Foundation promoted creative platforms, such as the Virtual Help Desk, that increased access to service offerings to twice as many people than the prior three years combined. More than 6,000 individuals have benefited from IndyBar Foundation services through August 2021. Said differently, the number of people the IndyBar Foundation served in 2020 went up 116% compared to 2019. This trend continues – through August 2021, the IndyBar Foundation has already served more people than last year (up 4% from 2020).
To meet this increased demand, the IBF volunteers have not rested. During the pandemic, more than 500 volunteers have donated nearly 3,200 hours to staff well-known programs, like Ask A Lawyer, Legal Line and the Free Wills Clinics, which continue to thrive despite going virtual. The data are remarkable because they represent a focused effort on key programs (i.e., the subset of services available during the pandemic).
Furthermore, the IndyBar Foundation's Crisis Empowerment Grant is a shining example of generosity and philanthropy. In 2020, the IndyBar Foundation repurposed its $35,000 grant (traditionally for outside nonprofits) to support members of the IndyBar and Indianapolis community in the throes of the pandemic. In 2021, the IndyBar Foundation resumed its $35,000 outside grant and awarded another $25,000 in grants to continue assisting IndyBar solo and small firm practitioners. The IndyBar Foundation selected the 2021 grant recipients based on their provision of services to central Indiana families in need of legal services.
The Indianapolis Bar Foundation understands that the pandemic has amplified the importance of our choices, especially balancing self-care and the energy required to perform. We can choose to feel defeated, to shy away from the hills left to climb. Or, we can catch our breath, remember the peaks we've summitted and refuse to linger knowing that our long walk has not yet ended. That said, the IndyBar Foundation applauds the resilience, courage, optimism and generosity exuded by its members and leadership.
Do your part to keep the Indianapolis Bar Foundation forging ahead. Keep your eyes peeled for more information about the Day of Giving scheduled for Oct. 27, 2021!•
Please enable JavaScript to view this content.