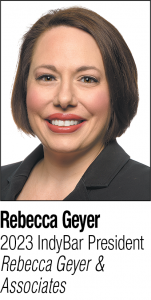 The Indianapolis Bar Association Board of Directors appreciates the work of the Purdue University Global Concord Law School Working Group. While we agree that the diminishing number of licensed Indiana lawyers is a growing challenge, particularly in rural areas, we are reluctant to support the application of Concord Law School at Purdue University Global for a variety of reasons, which are noted below. These concerns are rooted in a lack of confidence in the value a J.D. candidate would receive via a program that data suggests is currently achieving below average success and forecasts minimal impact.
Lack of confidence in potential impact on lawyer shortage
It is suggested that Concord graduates will help address the lawyer shortage and lack of diversity in Indiana's bench and bar. However, California has several online law schools yet continues to have a rural lawyer shortage. Further, Concord estimates "30-40 (Indiana resident) enrollments per year, with half of those coming from rural areas." With an attrition rate of approximately 50% and a pass rate in California of only 53.3% in 2021 and 58.5% in 2022, data forecasts a nominal increase of attorneys, at best. Finally, there is no guarantee that graduates will practice in underserved locales, and there is little indication that online education opportunities equate to greater diversity.
Lack of American Bar Association standards
American Bar Association accreditation regulations are time tested and designed to protect law students and the public. Concord not only does not qualify for accreditation because it is 100% online, but it also remains unaccreditable after more than 20 years of operation for a myriad of reasons well documented in a recent letter to the Indiana Supreme Court from the deans of IU Maurer School of Law and IU Robert H. McKinney School of Law. The growth of online instruction in legal education will grow in prevalence, but Concord's success does not appear to merit selection as our state's trailblazer in 100% online legal education. Further, we fear waiving achievement of ABA standards for Concord poses potential for diminished quality within the practice of law and a further erosion of public confidence in the profession.
Lack of access to mentoring/practical skills building
Access to clerkships, externships and colleagues is an integral component in the development of lawyering skills. Purdue University noted in their response to the work group, "We would suggest that Concord offer a weekend-long in-person orientation, and while we would strongly recommend that students attend in person, we would not want to penalize any student who was unable to do so by refusing to let them continue in the program." The reluctance of Purdue University to require students to engage in an in-person, one-week orientation or instructional session on campus at Purdue University-West Lafayette and an annual weekend in residence at the university is concerning. Both the school and its students should be committed to the holistic education of future lawyers. Those seeking a career in a forward-facing profession like law must engage in necessary skills-building in person to fully prepare for practice.
We enthusiastically support efforts to identify meaningful solutions to provide greater access to justice and increased diversity in the profession. Loan repayment initiatives, support for existing rural justice programs, the creation of lawyer apprenticeships, remote court access improvements along with other access to justice via technology enhancements, in addition to consideration of lowering the reciprocity requirements to enable younger lawyers to engage in practice more easily in Indiana, are all ideas we would energetically assist in exploring.
Ultimately, we are not convinced that the potential investment of time and money in Concord by Indiana students and the court will yield commensurate results. We're thankful for the opportunity to comment on the proposal and welcome further dialogue on how our organization may assist in providing solutions.•
Please enable JavaScript to view this content.