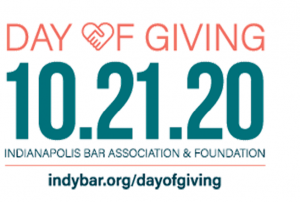 IndyBar members and the community showed overwhelming support during the Indianapolis Bar Foundation's third annual Day of Giving, which raised $36,275 from more than 250 donors. During such a challenging year, the foundation and its leadership is infinitely grateful for the generosity of the community, as well as the many hours of dedication by IndyBar Foundation volunteers and committee members to help spread the word about this important day.
Congratulations to this year's challenge winners:
Law Firm Challenge Winner: Taft Stettinius & Hollister LLP
Bar Leader Series Class Challenge Winner: BLS Class XVI
Section/Division Challenge Winner: Family Law Section
Special congratulations also go to Wanzer Edwards PC and Rebecca W. Geyer & Associates for achieving 100 percent participation among attorneys in their firm.
The 2020 Day of Giving served as an even more important fundraising initiative during a year when traditional in-person fundraising events became impossible. These funds are crucial to continuing support for IndyBar pro bono programs, scholarships and grants, including this year's Crisis Empowerment Grant, which helped to support IndyBar members assisting the public during this challenging time. To learn more about the IndyBar Foundation or get involved, visit indybar.org/ibf.•
Please enable JavaScript to view this content.