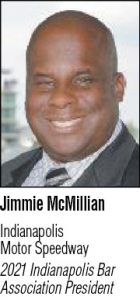 As I write this column, I am also occasionally nervously checking my personal email awaiting a communication from my 13-year-old twins Lance and Xavier McMillian's recreational soccer league suspending me for a number of games for my conduct as an assistant coach during a recent 9-4 win by our team. Yes, you read that correctly: The president of the IndyBar may be suspended from his kids' youth recreational soccer league. Why? How? Is there the possibility of appeal? Well, it all boils down to two dangerous human traits: (1) ego and (2) a desire to win. These two traits can make you a revered champion or an infamous villain; a celebrated super lawyer or a disbarred federal inmate. I know because on Tuesday night, I allowed my ego and desire to win my kids' soccer game guide me down that path of wrongdoing that replaces the sweet smell of victory with the gaseous funk of public embarrassment. I share this short admission of guilt to you as a cautionary tale of how quickly and easily we can each be inextricably pulled by those powerful forces of ego and a desire to win to knowingly and intentionally do the wrong thing.
I have proudly coached my twins in soccer since they were 3 years old and developed a great reputation around the league among parents, fellow coaches and staff as inspiring, positive and compassionate. I had no background or prior experience with soccer as a player or fan prior to becoming a coach. My only desire was to be a good father to my children and to celebrate and uplift all of my players for their effort. The majority of my seasons serving as head coach and assistant coach have been winning seasons. In fact, we have had three seasons where we have lost only one game. I have coached boys and girls, kids with special needs, kids with severe emotional and disciplinary issues and all-star soccer kids who may one day play in the World Cup. Throughout my 10 years as coach, I have attempted to be a role model for my kids for good sportsmanship. But on Tuesday, Sept. 22, 2021, the Darth Vader-like dark side of my ego and desire to win crushed that 10-year track record of excellence in only one hour. What happened?
It started with a pregame handshake between coaches. My team's head coach and I noticed prior to the start of the game that we had 16 players and the opposing team only had 11 players, which meant that they would not have any substitutions. During the pregame handshake, our team's head coach offered their team's head coach some of our players to play on their team so that they would have the ability to make substitutions. This is a common gesture to reaffirm good sportsmanship, even the playing field and protect the kids from exhaustion. The response to our offer from the opposing coach was, "We don't need any of your players, we are going to kick your ass!" We were shocked, humiliated and angry. Candidly, I believe that it is essential to the story to add that the opposing team and coaches were all white and that our team and coaching staff is primarily Black and Latino. Just three games and four days prior to the game on Tuesday, we caught a group of our team's kids (recently emigrated from Haiti) commenting prior to the game that the other team would undoubtedly win because they were all white and we were all Black. We had to explain to our kids that the color of the skin did not automatically predetermine the outcome of the game. We had to educate our children that they could win in a world that they already were programmed as teenagers to believe that they would lose whenever being asked to compete against someone white.
Fast forward to the coaches' handshake and now our immediate feeling of implied racial animus, whether intended or not, immediately lit our internal sticks of dynamite causing our egos to care about one thing and one thing only: to totally and completely obliterate the other team at all costs. Nothing and no one else mattered. We wanted to win!
We put in our very best players. They fought a hard back and forth first half resulting in a 4-4 tie. Very few substitutions were made as we tried to maintain pace with the other team. In our fever to win, we purposely did not give some kids a chance to play at all in the first half. My many years of coaching some of the very kids that did not get to play, knowing and working with their parents and my personal upbringing as the son of a mother that taught special needs children for over 36 years told me that it was wrong and that we needed to give all of the kids a chance to play even if meant losing the game. I whispered it and mumbled it but did not step up and do it, because I did not want to lose, I wanted to win! That's what we practice for! That's what we play the game for! That's what the other kids want! That's what the other parents want! We all want to win and who cares if some little kid's feelings are hurt!
At half time, our head coach gave a loud fiery sideline speech that would have easily inspired the kids to take the beaches of Normandy against the Germans if they had to. We put our best players back on the field and in short order we ran the score up 7-4. We completely shut down their two best players. We yelled, high fived, fist pumped and cheered on our players for their dominance. As the opposing coaches' anger and frustration grew, so did our euphoric joy. It was in that moment that I looked down the sideline and saw the kids that had not been put into the game. I whispered to our head coach that we need to put the other kids into the game. We would put a kid in the game, he or she would miss kicking the ball and immediately got pulled out within seconds. Three kids played less than a collective 60 seconds on the field. Six of our kids played the entire soccer game. We won the game 9-4.
Our head coach could not wait for the postgame handshake with the opposing coach. I could not wait to hug my sons and tell them how proud I was of them. And then I caught a glimpse of the faces of the parents of the kids that we did not play out of the corner of my eye. As I hastily tried to gather my kids' belongings and make a retreat to the car, the head referee summoned our head coach and me to the center of the field in the front of all of the parents for both teams, all of the kids for both teams and the opposing coaches to admonish us sternly and loudly for not playing kids on our team. He forcefully reminded us that those kids' parents paid money for an opportunity to see their kids play and that the league rules require coaches to give all of their kids a chance to learn and have fun. He voiced all of the collective anger, frustration and sadness of the parents of the kids that did not get to play. He warned us that we would be reported to the league and that if it happened again, we would no longer be allowed to coach. I stood silently nodding my head, embarrassed and ashamed in front of my sons and my mother. I knew what we were doing was wrong while we were doing it. I had the power, authority and responsibility to stop it and do the right thing but, my ego kept coming up with excuses to justify my unethical behavior. Win. Win. Win. But at what cost? What did I lose?
We apologized to the parents and to the kids. We will make certain that those kids get substantial playing time in future games this season. I pray that we have not left a lasting scar on their confidence or love for the game of soccer or alienated them from their teammates. As we traveled home, I told my sons that I was wrong and that I had not only failed them as a coach but also as a father by allowing my ego and desire to win to justify breaking the rules and hurting others in an effort to win the game. I hope the point of the story is obvious and applicable to your career. But like the old Aesop's fable, I will end with a simple warning: Don't let your ego and desire to win make you a loser in the end. •
Please enable JavaScript to view this content.