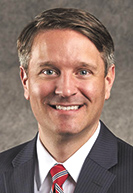 The Indianapolis Bar Association's Nominating Committee has announced the selection of David J. Duncan as the 2024 president of the Indianapolis Bar Association. Duncan will serve as the association's first vice president on the 2022 board of directors and as president-elect in 2023.
Duncan has served as counsel for Scannell Properties since 2016 and is primarily responsible for assisting with all aspects of the development process, including acquisitions, dispositions, debt and equity financing, and commercial leasing. Prior to joining Scannell, Duncan was a partner at Bose McKinney & Evans LLP, where he was a member of the firm's real estate and business practice groups.
Duncan currently serves as treasurer on the association's board of directors and is a past president of the Indianapolis Bar Foundation. He is also a past chair of the IndyBar Real Estate and Land Use Section and a graduate of the Bar Leader Series. He earned his JD from the Indiana University Robert H. McKinney School of law and his bachelor's degree in business process management from Indiana University.
Appointed by the committee to a two-year term as treasurer beginning in 2022 was Adam Christensen of Weston Foods.
Five members were selected to join the board as at large directors. Chosen to serve through 2024 were Ryan Cassman, Coots Henke & Wheeler; John Gallo, Marion County Public Defender Agency; Nicholas Huang, Harrison & Moberly; James Nussbaum, Indiana University; and Meredith Theisen, Rubin & Levin PC.
As determined by previous nomination, the 2022 board of Directors will be led by Hon. Alicia Gooden of the Marion Superior Court. Rebecca Geyer, Rebecca W. Geyer & Associates, will be president-elect. As incoming president, Judge Gooden has made the following appointments: Debi Dobbins of Heritage Environmental Services LLC will serve as counsel to the board. Enrique Flores, Flores Law Group; Shelley Jackson, Krieg DeVault LLP; Jenny Lukemeyer, Voyles Vaiana Lukemeyer Baldwin & Webb; and Travis Van Winkle, Law Office of Travis Van Winkle, will serve as vice presidents.
The 2022 board of directors will be formally installed in January 2022. See the full slate at indybar.org/board2022 •
Please enable JavaScript to view this content.