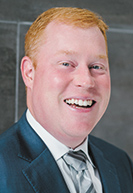 By Tim Karns, Wagner Reese LLP
At 8 a.m. on April 27, the Indianapolis Bar Foundation will host its annual Empowerment Breakfast at Meridian Hills Country Club. During this event, the IBF will induct its 2023 classes of Life and Distinguished Fellows. The IndyBar Foundation will also announce the recipient of its 2023 Community Empowerment Grant.
For those unfamiliar with the $35,000 Community Empowerment Grant (formerly known as the Impact Fund), it is an important tool the foundation uses to fulfill its mission of advancing justice and leading positive change in Indianapolis. Each year, the foundation solicits applications from various nonprofit organizations and government entities that reinforce the foundation's mission and present opportunities for members of the central Indiana legal community to participate on a pro bono or modest means basis. After a rigorous vetting process, the applicants are whittled down to a limited number of finalists from which a winner is chosen by a vote of the Distinguished Fellows.
This year, the IndyBar Foundation received 21 grant applications. Eclectic Soul VOICES Incorporated and You Yes You! have been selected as the finalists. Voting is currently under way to select the recipient. To learn more about these wonderful organizations and find out which one receives the Community Empowerment Grant, please register for the breakfast at indybar.org/empowerment.
The Community Empowerment Grant is just one of the more than $140,000 in grants the IBF awards to a variety of programs each year. In fact, many of your favorite Indianapolis Bar Association offerings, such as Ask a Lawyer, the Diversity Job Fair and scholarships for IndyBar programming are supported by funds raised by the IndyBar Foundation. In order to continue supporting these fantastic programs in 2024 and beyond, we need your help! That is why the Empowerment Celebration Breakfast will also serve as the official kickoff for the IndyBar Foundation's 2023 Day of Giving.
The Day of Giving is a 24-hour giving challenge that will take place on April 27. It's our chance to come together to demonstrate the important impact that lawyers and legal professionals make in our city every day. Through your generous donation of a sum equal to a single billable hour of your time, you will help law students reach their career goals, make crucial legal help available for our neighbors and strengthen our profession and our community.
Be sure to mark your calendars, rally your friends and colleagues, and help us make our community a better place. You can make your gift to the IndyBar Foundation on April 27 at indybar.org/donate.
Finally, the foundation would like to thank Becker Bouwkamp Walker P.C. for serving as the title sponsor for Trivia Night 2023. The event took place at Blind Owl Brewery on April 6 and resulted in a fierce competition among the Indy Bar's Best and Brightest. Ultimately, Alvin Ragg Former Consilliere to the Corleone Crime Family took home the trophy. Be sure to join us in 2024 to see if they can successfully defend their title!•
Tim Karns, a partner with Wagner Reese LLP, an Indianapolis Bar Foundation board member and co-chair of the foundation's Visibility Committee.
Please enable JavaScript to view this content.