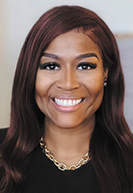 By Amber Finley, Health and Hospital Corp. of Marion County
Equal Pay Day (originally called "National Pay Inequity Awareness Day") was created by the National Committee on Pay Equity in 1996 to shine a light on the disparities in pay between men and women. This year, Equal Pay Day falls on March 14. This date represents how many days into the current year women must work to earn the same amount men earned in the previous year. This year, women must work a whopping 73 additional days.
Despite the passage of laws like the Equal Pay Act of 1963, which prohibits wage discrimination based upon sex, pay inequity between women and men continues to occur at alarming rates. Women in the United States working full-time, year-round, typically earn only 84 cents for every dollar earned by men, according to data from the National Women's Law Center. The wage gap varies by state and widens for women of color. In Indiana, Asian women earn only 77.9 cents, White, non-Hispanic women earn only 74.6 cents, Black women earn only 63.7 cents and Latina women earn only 57.2 cents for every dollar earned by white, non-Hispanic men in Indiana.
The wage gap not only negatively impacts women while they are in the workforce, but it also creates significant challenges upon retirement. In 2019, the United States Social Security Administration indicated that the average annual Social Security income received by women 65 years and older was $13,505, compared to $17,374 for men. Further, women typically receive lower pension benefits due to earning less over the course of their lives. Lower earnings also result in women having less money to save for retirement.
So, what can be done to close the wage gap? In a 2017 report, the National Women's Law Center suggested that employers conduct equal pay audits, engage in salary transparency and eliminate salary negotiations to begin to address inequity in pay. The American Association of University Women (AAUW) also proposed that employers should avoid using salary history to determine an employee's current wages. Additionally, to combat pay inequity, individuals and employers must remain cognizant of the underlying issues which lead to these discrepancies in pay, including racism and sexism, and work to combat those root causes.
On March 14, in honor of Equal Pay Day, I encourage you to do your part to close the wage gap by raising awareness about pay disparities and advocating for policies and procedures that lead to a more just and equitable society for all to live, work and play.•
Amber Finley, Marion County Bar Association President, will be among the panelists for an IndyBar program on Equal Pay Gap on March 15.
Please enable JavaScript to view this content.