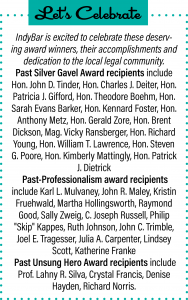 IndyBar's Professionalism Committee is pleased to announce the recipients of the 2022 IndyBar Professionalism Award (attorney) and IndyBar Silver Gavel Award (judge) winners as well as the Unsung Hero Award, given to a lawyer who goes above and beyond the call of duty and exhibits the highest level of commitment to others without the expectation of praise or recognition.
The professionalism awards were created in 2004 to summon to the spotlight lawyers and judicial officers whose career exemplifies the high calling and higher achievement of lawyers in modern society. This year's nominations highlighted many accomplished individuals who are the epitome of professionalism in action.
This year's honorees include: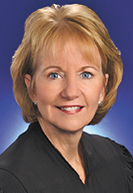 Silver Gavel Award – The Hon. Robyn L. Moberly, United States Bankruptcy Court
Judge Moberly was appointed by the 7th Circuit to serve as the first female bankruptcy judge for the Southern District of Indiana in 2012. She has completed a seven-year term as chief judge of the bankruptcy court for the Southern District and, in 2016, served as president of the Indianapolis Bar Association. She has been awarded the "Woman for all Seasons" Award by the St. Thomas More Society and has been recognized by the Indianapolis Business Journal as a Woman of Influence.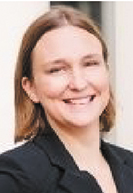 Professionalism Award – Kathleen "Katie" Meek, Kids' Voice of Indiana
When speaking of Meek, her nominator said, "Katie is often stepping up to help her colleagues when needed. She does all of this with a constant smile and positive attitude, something that can be rare in the contentious world of law, especially family law! Katie is known to be reasonable, kind, responsive and professional at all times. She is role model for other attorneys — both young and old."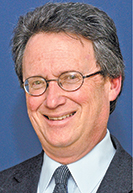 Unsung Hero Award – Andrew Fogle, Marion County Prosecutor's Office
Fogle's nominator said, "Fogle is one of the finest lawyers and finest human beings in our legal community … Andy is a thoughtful evaluator of the considerations in these cases, he is patient, he wields the power of the prosecutor's office modestly, and in all cases, with the highest commitment to civility and professionalism. He is a credit to the prosecutor's office and to our profession, and he is very deserving of recognition for his decades of service."•
Please enable JavaScript to view this content.