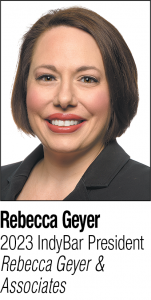 On Jan. 26, 2023, the Indianapolis Bar Association celebrated the installation of its 145th president, Rebecca Geyer. The following is the address she gave to the nearly 200 members, family and friends in attendance.
Thank you so much. It is a pleasure and a privilege to stand before you as your 145th IndyBar president. It's truly amazing to be on a podium with so many remarkable women whom I count as both mentors and friends. I just finished a book called "Lessons in Chemistry," in which a woman chemist in the 1950s longs to be treated seriously in a male-dominated profession in a society that has relegated her to the roles of wife and mother. Seventy years later it is still awe-inspiring to see a table filled with all female leadership, and I know our association and foundation are in wonderful, capable hands. I also want to thank the past presidents of the association and foundation who are with us this morning. Receiving the gavel from you is a humbling experience. I've had the opportunity to work with each of you over my years of involvement with the IndyBar, and I look forward to following in your footsteps as I take the helm of this organization.
Raegan Gibson, I cannot thank you enough for your introductory remarks, but even more importantly for your friendship. Many of you in this room know Raegan and you are familiar with her creativity, drive and determination. But to be Raegan's friend is truly a gift. She is a constant cheerleader, making sure you are OK in good times and bad. She is the first to congratulate you on your successes — often with flowers, a meal or a gift card — and she rallies the troops whenever help is needed. Raegan brings a little extra to everything she does. You can see it in her jewelry, her love of sequins, her rainbow-colored office and her ability to juggle her family while sending out 150 emails on behalf of IndyBar. Raegan is also a tremendous leader, as demonstrated by her service as foundation president last year. Under her leadership, the foundation board raised a record number of dollars in 2022 and gave lawyers numerous opportunities to be together again in person. Raegan is also a tremendous lawyer who is consistently responsive to her clients' needs and an amazing mentor to her team. In short, I'm not sure how she does it all, but I'm enormously proud to be her friend, and I know my life is forever changed for knowing her. Thank you for everything. I love you, friend.
I've been involved with the Indianapolis Bar Association since I first began practicing law 24 years ago. I'm a third-generation attorney. My grandfather and father not only instilled a love of the law in me, but also made sure I know how important it is to serve my community and profession. My mother, who is not an attorney but is often asked if she is, provided me with the same example, working in government and public service throughout her career to better the places in which she lived. These lessons I took to heart, and they have fueled me to be active, involved and engaged in my profession throughout my career. The Indianapolis Bar Association and Foundation are the organizations which have enabled me to develop as an attorney while giving back to the profession which gives me so much.
In my years of involvement with IndyBar I've served on committees, been a bar leader, chaired a section, led our foundation and much more. I know the numerous ways this organization serves the legal profession, which is why I can confidently say that there is no more proactive organization addressing the needs of lawyers in Indiana. The staff and leadership of IndyBar work tirelessly to meet the current and prospective needs of lawyers in our community. Our profession experienced unprecedented challenges in the last few years. Many of us felt adrift as we were cut off from work life as we knew it. IndyBar provided the connection and services to get us through those trying times. There were virtual social hours, court updates and roundtable discussions to provide information about how to practice remotely, virtual CLEs and much more. As we have come back together, IndyBar continues to ensure our personal and professional needs are being met. The ways IndyBar serves lawyers are too numerous to count. There are CLEs, social engagements and leadership development training, but that is just the tip of the iceberg. Our HEAL Committee helps lawyers facing health and personal crises. We support law students by providing outreach and programming to enable them to learn about different areas of practice, meet lawyers in our community, and develop skills to transition from student to practitioner. We have been at the forefront of diversity, equity and inclusion training within our city, recognizing our own shortcomings, and developing a multifaceted plan to increase diversity within our organization, within our law firms and in our community at large. We developed alliances with our metro bars, including the Marion County Bar Association and the Asian Pacific American Bar Association, to provide mutual support, inclusion and opportunity.
Every two to three years, the IndyBar conducts a strategic planning retreat, inviting a mix of lawyers who represent a cross-section of our legal community to work together to develop a two-to-three-year plan to ensure we are addressing the most pressing needs of our members. In the fall of 2022, we held our first strategic planning retreat post-COVID. What came from that retreat is a list of goals and initiatives which our association will focus on for the next two years. Those initiatives include supporting members' professional development and satisfaction at every stage of their careers; nurturing a mutually beneficial bench-bar relationship to serve the administration of justice and respect for the legal system; supporting, engaging, developing and retaining diverse people of color in leadership roles; and advancing a welcoming and collegial Indianapolis legal community by facilitating community and reconnection in a disconnected world. These are lofty goals and initiatives, but I am confident that our board of directors is up to the challenge, and through the help of our incredible staff, these goals will soon be a reality.
While I am excited about serving our profession, my favorite thing about IndyBar is the connections I've made. I look out at this room, and it is filled not only with my actual family, but with friends and colleagues who have made my life and career rewarding and meaningful. IndyBar gives me a sense of belonging, and I would be remiss if I did not recognize and thank many of you for how you have enriched my life.
First, I want to recognize my associates and staff. People say it takes a village to raise children, but it also takes a village to run a busy practice and lead professional organizations. Cara Chittenden, you are such a wonderful friend and colleague. You keep me sane in times of craziness and are always there to celebrate when things go well. You are a gifted lawyer, providing legal advice with compassion and skill that consistently results in hugs from our clients. I am so thankful to work with you and I appreciate everything you bring to our firm. Tamara, it's only your first week, but I look forward to building our relationship, and I'm thrilled to have you join us. Dara, Cassie, Michael and Jan, I could not ask for better staff. You manage my crazy schedule, calm our clients and deliver outstanding work on a daily basis. You are a wonderful team, and I'm indebted to each of you.
Second, I want to thank our incredible IndyBar staff. Julie Armstrong has served as executive director of IndyBar throughout my career, and her influence on my life has been tremendous. We not only discuss association work, but we share the challenges of leading a team, raising a family and striving for work-life balance. You have had an impact on so many people in this room, and you are the chief reason the IndyBar remains progressive and successful in meeting its mission. Thank you. Deneen Fitzgerald, you are a joy to work with, always offering a smile and maintaining your calm demeanor even in the most stressful of times. Along with Kamryn Reed and Meredith Dover, you keep our sections and divisions running smoothly. Kari Hartman, you and your team keep our finances in check, make sure bar review runs smoothly and facilitate much of our law school engagement. Bryssa Budd and Stefanie Olsinski, I can honestly say you are the only people who could get me to create a TikTok, much to my children's embarrassment. You have boundless creativity, and you keep us socially connected and in the know about all things IndyBar. Thank you.
I would not be here today without the support of many of you in this room. Raegan Gibson, Biz Walker, Bri Clark, Travis Jensen — you are my rocks. You support me professionally and personally through all of life's ups and downs, and no group makes me laugh harder. I look forward to our next vacation. Thank you for adding so much to my life. Travis Van Winkle, you are truly my brother from another mother. I've known Travis for more than 25 years, dating back to when he worked in my father's office before he even started law school. He is the best of the best, and it is a thrill to see all he has personally and professionally accomplished over the years. I look forward to working with you on our board this year. Kimberly Dal Santo and Cory Judd — you were both brand new lawyers when you first started working for me. You are my work daughters even if we no longer work together. I take joy in your accomplishments, and I love watching your careers develop and your families grow. You will always be dear to me.
Elisabeth Edwards — what a joy it is to serve with you this year. I first met Elisabeth in 2007 in Bar Leader Class IV. She is a dynamo, a strong leader committed to getting things done, whose acerbic wit is second to none. We've come a long way in 16 years, and I can't wait to work with you this year.
Meeting the needs of our members would not be possible without the incredible board of directors who stood before you, who bring imagination, energy, talent and dedication to our cause. I am so excited to be working with this amazing group of people this year. I also look forward to working with my fellow officers, Dave Duncan and Lee Christie, both of whom I had the opportunity to lead with previously when we served on the foundation board of directors. To say I hold them both in high esteem would be an understatement, and I know the association could not be in more capable hands in the next few years.
There is no way I could assume this role without the support of my family. A special thanks to my mother who is here today, and who always stands by me, listening and lending support whenever its needed. My mother is my role model, my confidante, my business coach and my hero. She was a trailblazer in her own career, making sure I knew I could accomplish anything I put my mind to, and I am eternally grateful to be her daughter. Many of you know my father, Richard Gole, who practiced law in Indianapolis for almost 50 years. I grew up listening to him handle client matters — returning calls even after he got home and dictating work in the early hours of the morning and while driving in the car. It is from my dad that I learned to associate the law with helping people. My father could not be with us today due to his health, but he calls me daily to tell me how proud he is of my accomplishments and to tell me how much he loves me. I'm so thankful to have such loving parents who have also served as wonderful role models.
Finally, I reserve the biggest thank you of all for my husband, Paul, and my children, Nathan, Sam and Charlie. Boys, you are without a doubt my three greatest accomplishments, and it is a privilege to be your mom. I could not ask for better or more supportive children. Lots of people complain that their teenagers never speak to them, but I'm lucky to be close to all of you, and you each talk to me every day. While I consistently tell you how proud I am of each of you, you do me the honor of being proud of me, too. I love you all. Paul, I know without a doubt that I am a lucky woman. There is absolutely no way I could be a mother, run a law practice and give back to my profession without your support. You chauffer the kids, do the laundry and support my endeavors, all while working your own full-time job. Not a week goes by that my friends don't comment about what a wonderful husband you are, and it's true. We've been together almost 30 years, and all I can say is that I was one smart 19-year-old when I picked you out in that economics class at IU.
Thank you again for the opportunity to lead this wonderful organization. I look forward to working with you in the year to come.•
Please enable JavaScript to view this content.