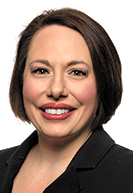 The Indianapolis Bar Association's Nominating Committee has announced the selection of Rebecca Geyer as the 2023 President of the Indianapolis Bar Association. Geyer will serve as the association's First Vice President on the 2021 Board of Directors and as President Elect in 2022. Geyer is the founder of her firm, Rebecca W. Geyer & Associates P.C., which is a small firm that provides services in estate planning, estate and trust administration, elder law, tax planning and business services.
Geyer is a current member of the IndyBar Board of Directors and serves as secretary as well as chair of the Estate Planning & Administration Section. Her previous IndyBar involvement is extensive and includes positions on various committees. She also served as president of the Indianapolis Bar Foundation in 2018. She earned her undergraduate degree from Indiana University and her J.D. from the Indiana University Maurer School of Law.
Appointed by the committee to a two-year term beginning in 2021 was Ian Goodman of Paganelli Law Group as Secretary. Mike Gaerte of Dentons Bingham Greenebaum will serve as Counsel to the Board. Four candidates were also selected to serve as Vice Presidents: Hon. John Chavis, Marion Superior Court; Vanessa Lopez Aguilera, Lopez Law Firm; Enrique Flores, Flores Law Group LLC; and Carman Malone, attorney at law.
Five additional At Large Directors were also selected. Chosen to serve through 2023 were the Hon. Charnette Garner, Marion Superior Court; Pamela Grant-Taylor, Marion County Public Defender Agency; Angka Hinshaw, Marion County Public Defender Agency; Donnie Morgan, Taft Stettinius & Hollister LLP; and Dana Philips, attorney at law.
As determined by previous nomination, the 2020 Board of Directors will be led by Jimmie McMillian, Indianapolis Motor Speedway. Hon. Alicia Gooden of the Marion Superior Court will be President Elect.
The 2020 Board of Directors will be formally installed in January 2021.•
Please enable JavaScript to view this content.