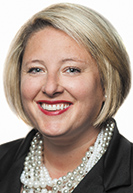 The Indianapolis Bar Foundation (IBF) Nominating Committee has announced its slate of officers for 2020, naming Raegan Gibson of Paganelli Law Group to the position of First Vice President.
Gibson will assume the role of president-elect in 2021 and will lead the IBF as president in 2022. She has previously served as treasurer of the IBF and is a Distinguished Fellow of the foundation.
Several additional appointments were also made. See the full listing below.
If you are interested in serving on any of the following IBF committees, please contact Julie Armstrong at [email protected]: Gala & Auction Committee, Fellows Committee, Golf Committee, Impact Fund Committee, Visibility Committee, Finance Committee, Nominating Committee.
2020 Indianapolis Bar Foundation Board of Directors
President: Lee Christie, Cline Farrell Christie Lee & Bell PC
President-Elect: Adam Christensen, Weston Foods U.S.
First Vice President: Raegan Gibson, Paganelli Law Group
Immediate Past President: Mark Waterfill, Attorney at Law
Secretary: Elizabeth Eichholtz Walker, Becker Bouwkamp Walker PC
Treasurer: Ned Mulligan, Cohen & Malad LLP
Counsel to the Board: Elisabeth Edwards, Wanzer Edwards PC
Directors:
Bianca V. Black, Littler Mendelson PC
BJ Brinkerhoff, Jeselskis Brinkerhoff & Joseph LLC
Briana Clark, Bingham Greenebaum Doll LLP
Hon. Annie Christ, Marion Superior Court
Samantha E. DeWester, Indiana Department of Natural Resources
Jack Donaldson, Westport Homes, Inc.
Erin M. Durnell, Broyles Kight & Ricafort PC
Mary A. Findling, Findling Park Conyers Woody & Sniderman PC
Amber J.N. Finley, Eli Lilly and Company
Jeffrey M. Gill, Indiana Public Retirement System
Meaghan Haller, Bingham Greenebaum Doll LLP
Julian E. Harrell, Faegre Baker Daniels LLP
Andrew W. Hull, Hoover Hull Turner LLP
Travis Jensen, Johnson Jensen LLP
Richard Kiefer, Bingham Greenebaum Doll LLP
Angela Krahulik, Ice Miller LLP
Sam Laurin, Bose McKinney & Evans LLP
Michael McBride, Cohen & Malad LLP
Patricia McKinnon, Attorney at Law
Patricia McMath, Office of the Indiana Attorney General
Donald E. Morgan, City of Indianapolis
Carol Nemeth Joven, Price Waicukauski Joven & Catlin LLC
George M. Plews, Plews Shadley Racher & Braun LLP
Tammara D. Porter Avant, Taft Stettinius & Hollister LLP
Melanie K. Reichert, Broyles Kight & Ricafort PC
Hon. Marc T. Rothenberg, Marion Superior Court
Chuck Schmal, Woodard Emhardt Moriarty McNett & Henry LLP
Andrea Shelton, GuideOne Insurance
Brandon A. Skates, Marion County Prosecutor's Office
Joshua W. Timmons, J. Timmons Law LLC
Kevin Toner, Faegre Baker Daniels LLP
W. Kent Winingham, Wilson Kehoe Winingham
Ex Officio Directors:
Andrew Campbell, Faegre Baker Daniels LLP
Jimmie McMillian, Indianapolis Motor Speedway
Tom Barnard, Taft Stettinius & Hollister LLP
Please enable JavaScript to view this content.