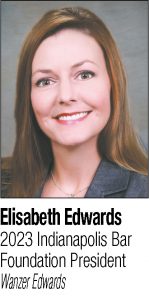 On Jan. 26, 2023, the legal community celebrated the installation of the 55th president of the Indianapolis Bar Foundation, Elisabeth Edwards. The following is the address she gave to the nearly 200 members, family and friends in attendance.
I knew when I agreed to serve as your IndyBar Foundation president this day would come. While I am absolutely honored and humbled at this opportunity, my co-workers and friends know that working on this speech has filled me with anxiety for the last six months, especially at my favorite time to ruminate, the 2-5 a.m. witching hour. Do I hate speeches? No! I am a frequent litigator, seminar presenter and two-time eulogist. I even volunteered to give a speech at my high school graduation and have spoken numerous times at my beloved Hanover College. What's my problem? It's because the IndyBar Association and Foundation really matter to me. You all really matter to me, and I want to leave you with something different than what you've heard before — that, and the super competitive streak I don't like to admit I have causes me to want to "win" at giving my own installation speech.
Seeing the faces out in this crowd, you know that the IndyBar Foundation is the charitable arm of the IndyBar. You know our mission is to advance justice and lead positive change in Indianapolis through philanthropy, education and service. You know all the good work we do supporting our community, our profession and future attorneys. So today, let me start off by focusing on something else: you, the attorneys.
Attorneys are some of my favorite people. Yes, we can be difficult, cranky obstreperous pains in the you-know-whats, but at the end of the day, we're all trying to help. We help all day, and for many of us with those pesky billable hour requirements, we're still helping all night and all weekend while trying to maintain relationships, parent and take care of everyone else. There are some among us who seem to have that perfect work-life balance. But there are many of us who are struggling.
I will tell you personally that being a family law attorney has never been more challenging. 2022 was even named the "Year of Rage" by The New York Times. In our family law circles, we've shared the news story of Lawrenceville, Georgia, attorney Doug Lewis, who was killed, and his office set on fire by his client's ex. Our clients — and unfortunately sometimes our opposing counsel — are angrier than ever. For the first time in my 20 years of doing family law, I received numerous calls and emails from frantic clients over Christmas weekend. Tensions could not be higher. People are hurting. Many of our best and brightest attorneys have been taken from us far too soon by suicide, sidelined by cancer, silenced by mental illness or are struggling with alcohol and substance abuse. Recent Bloomberg Law survey results showed for the first time at the end of 2021 that attorney burnout rates soared above 50%, and most of those reporting burnout said their overall well-being has worsened significantly. Year-end statistics from our own Indiana Judges and Lawyers Assistance Program show an average of 100 more calls annually over the past four years than the four years prior.
Our legal community at large is hurting.
Now, I'm not here to be solely a problem identifier without offering some solutions and takeaways. As former IndyBar Association President Scott Chinn would say, here are three ways the IndyBar Foundation can help right this ship and perhaps create more happiness and peace in your practice.
1. Give your time. A 2020 study published in the Journal of Happiness found those who volunteered reported being more satisfied with their lives and rated their overall health as better. Volunteers who kept at it for at least one month also reported having better mental health than those who didn't volunteer. The IndyBar Foundation has numerous opportunities for you to volunteer, especially committee work — where the bulk of our magic to live out our mission occurs — is open to any member of the bar, from the Law Student Division on up. If you have enjoyed our events, or maybe you think you can help do them better, why not work with an amazing team of passionate people to help? Events like our upcoming Day of Giving, the Block Party at IndyBar HQ or the Gala in September do not create themselves. Or if you prefer to volunteer and provide legal services, you can even do so in the convenience of your own home or office with our Virtual Help Desk. Last year, only 85 volunteers provided an incredible 1,266 hours of service. Why not feel better AND do good in our community? It's a win-win for us all.
2. Give your money. A 2022 study by Happy Money found that individuals who donate to causes of their choice reported being happier than others across all demographics, and that giving to charity was linked to a greater happiness that was the equivalent of earning $36,000 more in income. Kick off your year of happiness on April 27 by donating the equivalent of one billable hour to our Day of Giving. Sponsor an event like the Gala in September and bring your friends! Select one-of-a-kind experiences and quality gifts from the convenience of your couch when you bid on auction items for IndyBar's Giving in November. We know it's tax deductible, or a business write off, but really, can you put a price on all that happiness you're going to feel when you know you've donated to such a worthy cause?
3. Gather together. Especially now that so many of us are working remotely full-time, or more than we used to, even if you're an introvert, there are tremendous health benefits to social interaction. The Harvard Women's Health Watch reported that dozens of studies have shown people who have satisfying relationships with family, friends and their community are happier, have fewer health problems and live longer. While we all have experienced the joy of Zoom, BlueJeans, WebEx, Teams, Google Meet and Facetime, we still need physical in-person connections for our mental health. Why not surround yourself with your favorite foursome at the golf outing this July? Or bring your whole office to the Block Party to kick off your Memorial Day weekend? I rarely speak in absolutes when I'm giving legal advice, but I guarantee that attending one of the foundation's premier events in 2023 will not only put a smile on your face, but it could also generate business referrals, employment opportunities or help you to create a circle of colleagues and friends that will last your entire career.
It's obvious we all need the foundation if we're going to pull ourselves out of this crisis. And the foundation absolutely needs YOU to keep doing its work. I invite you to volunteer, to say yes when we call or email for sponsorships or donations, and to show up. The foundation helps to create good times, good work and great impact, and we cannot do what we do without you.
Before I close, I have some thank yous. First and foremost, huge thanks to the greatest of all time, our executive director, Julie Armstrong, and her amazing staff. Julie is the heart and soul of this organization, and I am thankful she's the captain of this ship every day. The IndyBar staff make this look easy and make us all look good. Please give Julie and the rest of the IndyBar staff a round of applause.
I also have a tremendously long list ofbar leaders to thank who have at various times throughout my journey taken me under their wings and provided mentorship. My time is too short to list them all here, but please know that I see so many of you in this room who have helped shape and guide my path to this moment. It is not lost on me that I am standing on the shoulders of some of the IndyBar's very best. I also must give a very special shoutout and thank you to Gloria Mitchell for agreeing to have lunch with me to talk about family law, and who ended up hiring me as a law clerk during that lunch. Gloria, along with Robin Kelly, mentored and taught me so much about the practice of family law, and about service to the IndyBar Association and Foundation. I'm thankful to have started my legal career at a law firm where the IndyBar was given such importance, and I was given the space to volunteer.
Thank you also to the amazing 2023 foundation board. I'm excited to get to work with all of you this year. I'm also honored to work with my two other Bar Leader Series Class IV graduates, Rebecca Geyer and Jimmie McMillian, and all the other BLS grads serving in leadership this year.
Next, I must thank my crew at Wanzer Edwards for their tireless work in a very challenging area of practice. They are gifted professionals who always make me smile, despite the gravity of what we do. I especially must thank my law partner, Holly Wanzer, for speaking into the universe that she was going to start a law firm and I should join her. I don't know that I would have had the courage at that time to jump into this adventure, but I'm so glad I did. And I can also boast that having the 2017 IBF president in the office next door to mine is like being Michael Corleone with Don Vito as my consigliere.
Next, I have to say a huge thank you to my husband, Troy, and my son, Fox. Fox, you make every day so special, and I love you and am so proud of you. While you're not on the agenda, you are always in my heart. Troy, you have been my biggest supporter and confidant, and my number one teammate and partner in our adventures together. I cannot thank you enough for all the support you've shown me. I love you.
Finally, I am thankful to all of you for this outpouring of support today. I hope you'll join me in support of the foundation this year.
Thank you.•
Please enable JavaScript to view this content.