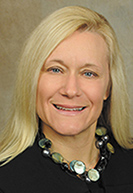 The Indianapolis Bar Association's Nominating Committee has announced the selection of the Hon. Alicia Gooden as the 2022 President of the Indianapolis Bar Association. Judge Gooden will serve as the association's First Vice President on the 2020 Board of Directors and as President-Elect in 2021.
Judge Gooden currently serves as a member of the Marion Superior Court Executive Committee and is a judge in the Criminal Division, Court 21. She was elected in 2015, having previously served the court as a master commissioner from 2001 to 2010.
Judge Gooden is a current member of the IndyBar Board of Directors, serving a one-year term as Vice President. Her previous association involvement is extensive and includes various positions on the board of directors, chairing the Family Law Section and the Pro Bono Standing Committee and co-chairing the IndyBar Bench Bar Conference. She earned her B.A. from Indiana University and her J.D. from the Indiana University Robert H. McKinney School of Law.
Appointed by the committee to a two-year term beginning in 2020 was David Duncan of Scannell Properties as Treasurer. Five additional At Large Directors were also selected. Chosen to serve through 2022 were the Hon. Debra McVicker Lynch, United States District Court for the Southern District of Indiana; Tim Devereux, Wagner Reese LLP; Deborah Dobbins, Heritage Environmental Services LLC; Alice Morical, Hoover Hull Turner; and Meredith Theisen, Rubin & Levin PC.
As determined by previous nomination, the 2020 Board of Directors will be led by Andrew Campbell, Faegre Baker Daniels LLP. Jimmie McMillian of the Indianapolis Motor Speedway will be President-Elect. Additional appointments to the 2020 board for Vice President and Counsel to the Board positions will be made yet this year by President-Elect Campbell.
The 2020 Board of Directors will be formally installed at the Indianapolis Bar Association and Foundation Installation Luncheon, to be held in January 2020.•
Please enable JavaScript to view this content.