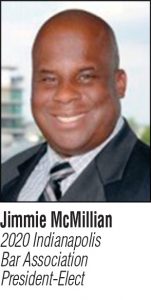 As President-Elect of the Indianapolis Bar Association, I did not want to write this message about racial injustice. As an American citizen, I regret that I have to write this message about inequality. As a representative of the more than 4,000 members of the IndyBar with varying backgrounds, opinions, experiences and positions, it is incredibly difficult to write this message on behalf of all members about the current state of our country, state and city. As a black man in America, it is virtually impossible to write this message and express my true feelings and the feelings of other black people in America.
The subject is personal for everyone. The positions are divisive. The emotions are raw. The discussion is frustrating and exhausting. It would have been much easier and convenient for me to ask current IndyBar President Andrew Campbell to write this message from his perspective as a white male attorney and for me to remain silent on this issue so as to not offend or upset others with my explanation of why I personally believe we are where we are as a society on the issue of race today and what we as the IndyBar and attorneys should do to truly ensure liberty and justice for all.
I am angry right now as I write this message. I am extremely angry. I am hurting right now. I carry and bury that hurt deep inside every day as I have to continue to work, live, laugh and function in a society where my existence and viewpoint are still viewed as a "minority." Like many of my black and brown colleagues, I have been required to wear the professionally friendly and cooperative mask of acceptance and tolerance long before the COVID- 19 pandemic. I am strong, but the unyielding constant pressure of racism against my own neck and the neck of other black and brown people makes me cry in silence even as I type this message. I do not want to continue to have to write messages like this one to explain how it feels to be a black man or woman in America and plead for white Americans to hear me, see me and do something right now to fix it.
But I decided to write this message because as a lawyer and leader of the IndyBar, I believe it is my duty to make you aware that racism and injustice does still exist. It exists in the criminal justice system, the school system, the health care system, our places of employment, our religious institutions, our neighborhoods, politics and the legal community. We as lawyers each took an oath to be advocates for justice and we must rededicate ourselves daily to the fight against racism. We must make it our priority to listen, our commitment to examine and our obligation to act to eradicate racial inequality. As lawyers and judges, we cannot and should not be divided on this guiding American principle from our Declaration of Independence:
We hold these truths to be self-evident, that all men are created equal, that they are endowed by their creator with certain unalienable rights, that among these are life, liberty, and the pursuit of happiness. That to secure these rights, Governments are instituted among men, deriving their just powers from the consent of the governed. That whenever any form of government becomes destructive of these ends, it is the right of the people to alter or to abolish it, and to institute new Government, laying its foundation on such principles and organizing its powers in such form, as to them shall seem most likely to affect their safety and happiness.
This is the contract America has entered into with each of its citizens. As lawyers, we take an oath to uphold, ensure and guarantee performance of this contract. When there is a breach of this contract, we must use our training, skills and resources to make sure the law affirms this contract. Racism at its core is about the unlawful and immoral exercise of power and authority by one group of people against another group of people based on their race or ethnicity. Thankfully, as lawyers we have the power and position to fight racist ideologies and dismantle systems with inexplicably racially skewed outcomes using the law. It is not easy. It is very difficult. It is extremely hard. It would be easier to allow someone else to do it. But as long as we have the power and the position, it is our responsibility to do it and to do it now.
Our IndyBar leadership and members want a better and more equitable America where everyone has the opportunity to succeed without regard to the color of their skin. Our programing and positions continue to emphasize the importance of diversity and inclusion. Equal justice for all is our priority. I urge each of our members to examine how you can use your power and position as an attorney to work in conjunction with the IndyBar on issues of racial injustice and to join our continued efforts to take meaningful and measurable steps to effectively eradicate racism and injustice forever.•
Please enable JavaScript to view this content.