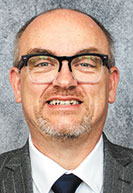 By Travis A. Van Winkle, Van Winkle Legal
Once again, we find the end of the year rapidly approaching. I, like many of you, am facing what seems like an endless to-do list. Writing this article has been weighing on my mind since President Gooden asked me to pinch-hit for her. This was not because I was reluctant to do so, but because I wanted to write something impactful. In December, we often read articles that reflect on the passing year. I have certainly done my share of reflecting of late. I am sure the same is true for many of you. Still, I knew I wanted this article to be about something more. As I continued my search for what to say, I kept coming back to the sense of belonging and connection I have found with the Indianapolis Bar Association and Foundation. For me, the staff immediately comes to mind when I reflect on what makes IndyBar such a valuable organization. We have, without a doubt, some of the best people in the business supporting and working with us at IndyBar. Yet, I have also learned that much of IndyBar's impact comes from the service of our members.
I am going to let you in on a secret — keep it between us — I was not a member for several years. This is something I regret. The friendships and connections I have made and/or strengthened via my involvement with IndyBar helped me realize just how foolish I was in letting my membership lapse all those years ago. My practice is healthier, and I am a better attorney because of my involvement. More importantly, I have been provided with some amazing opportunities to give back to the legal community, including helping colleagues facing health and/or personal crises through the HEAL Committee, being on the Executive Committee for the Family Law Section and serving as a vice president on the board of directors.
Our profession has experienced unprecedented challenges in the last few years. We were forced to change the way we do what we do. In the early days of the pandemic, I felt like a like a ship without a rudder. A huge source of help for me through those trying times came from IndyBar. The weekly virtual social hours gave me a way to connect with colleagues. Court updates and roundtables provided much-needed information about how to practice law and operate a firm remotely. IndyBar's ability to adapt and bring us virtual CLEs was another invaluable resource. While a good number of other professional organizations around the country found themselves facing serious financial strains due to the pandemic, our organization was able to avoid such difficulties. It did so, in part, because it had long taken steps to make sure we were prepared for such a crisis. This left us better able to rise to post-pandemic challenges and is yet another way we have benefited from IndyBar.
As we go forward, we must face that things may never be the same (some of us got a little too comfortable staying at home). We have young lawyers who were not able to experience all the ways IndyBar can make a difference in the development and growth of their practices. We continue to learn — both personally and professionally — how best to navigate in this changed landscape. Our legal community has a long history of meeting such challenges. I have no doubt we will rise to the occasion as we continue to discover ways IndyBar can enrich our lives/practices and how we can play a role in helping it do just that.
You might be asking yourself what you can do and, if not, you should be asking just that question. Guess what? I have some suggestions. First and foremost, offer to serve. There are countless opportunities. For example, the HEAL Committee is always looking for volunteers to provide a meal, transport a colleague to an appointment, mow grass, tile a bathroom or just listen to someone facing a trying time. Do not be afraid to pitch a CLE topic, and while you are at it, offer to be a presenter. Have an out-of-the-box way to socialize with other members? Toss it out there. We are currently looking at pottery classes, walking the Monon or canal (or both) with colleagues and pets, cooking classes and more. We have such an amazing space at HQ. Help us use the space to its full potential by working there instead of driving back to the office in between hearings or hosting a watch party for the next big game. Hold your next section meeting in person (be honest, we are all tired of virtual meetings). Do you like to put on a good party? Volunteer to help with the 2023 Foundation Gala. Thought about getting more involved in your practice areas? Take the step toward section, committee or division leadership (don't forget to check out IndyBar's newly formed In-House Counsel and Hispanic Lawyers divisions).
As the last few years have certainly taught us, we must rise to the challenges to ensure the continued success of our profession. By stepping up and showing up, we can give back to an organization that has given and will continue to give so much to us. In doing so, we can ensure it is there to support us as we go forward. We will also help ensure it is able to provide support for future generations of lawyers. I am excited to see the great things IndyBar and its members will accomplish in 2023 and beyond. Happy Holidays and be sure to give yourself the gift of additional involvement with IndyBar!!•
Please enable JavaScript to view this content.