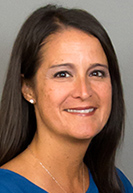 By Comm. Kelly Scanlan, Marion Superior Court
Could you use a helping hand? The IndyBar HEAL Committee, through its dozens of volunteers, and under the leadership of new Patty McKinnon, is ready and willing to help YOU and your colleagues. For those of you who may be unfamiliar, HEAL, which stands for Helping Enrich Attorneys Lives, exists to provide support and encouragement for local paralegals, attorneys and judges in times of personal or professional challenge.
HEAL is excited to benefit this year from Patty's energy and enthusiasm for helping others as HEAL continues its tradition of assisting and encouraging colleagues in times of strife, while also growing and expanding its outreach. The committee already has one of its quarterly meetings for 2022 under its belt and, as always, has offered and provided support to several local legal professionals this year.
"As a member of the HEAL committee I knew that our work was important and helpful for the people we were helping. However, when I was sick last year, I realized that the work of the committee is transformative. The outpouring of support and encouragement I received from my IndyBar friends buoyed my spirits in ways I cannot fully describe. Every note, call or email made me happy," John Trimble of Lewis Wagner LLP said.
Recently, HEAL volunteers have been providing meals for a local attorney who brought her elderly father home to live with her following release from a difficult hospitalization. A HEAL member also loaned the attorney a wheelchair for her father's use and offered to lend a temporary ramp, walker, crutches and/or cane if needed.
Additional examples of support HEAL has provided to others in the past include transportation to and from medical appointments for an attorney rendered temporarily unable to drive, and interior home painting for an attorney after a nightmare scenario involving mold and subsequent extensive remediation measures that displaced her family. Due to its large number of volunteers, the ways in which HEAL might be able to provide help are limitless! If you could use a helping hand or even just some encouraging words, or know a local legal professional who might benefit from such support, please do not hesitate to visit HEAL's webpage at indybar.org/heal or contact [email protected] Referrals and information provided to HEAL remain confidential.
New this year, HEAL has its first vice chair, Travis Van Winkle, who has been an active volunteer for several years, to help provide for continuity and future leadership of the committee. Also new this year, HEAL is actively working with the Marion County Bar Association to include one or more of its membership on the committee to help HEAL expand its outreach and recruitment. To further assist with outreach and recruiting, Rayann Knepley is serving as a representative from the IndyBar Paralegal Committee. HEAL is also working more closely with JLAP and its deputy director, Loretta Olesky, to ensure HEAL makes appropriate referrals when needed.
HEAL members have begun planning for the seventh annual Celebration of Life & Career ceremony, which serves to celebrate and honor the lives and careers of local attorneys, judges and paralegals who passed away in the previous year. HEAL looks forward to continuing this tradition in the fall, which has been appreciated each year by friends and family members of those we have lost.
Please contact HEAL, Patty at [email protected] or Travis at [email protected] if you have any questions about HEAL or are interested in becoming a volunteer. Keep an eye out for HEAL's table at Bench Bar in Louisville this June, too!•
Please enable JavaScript to view this content.