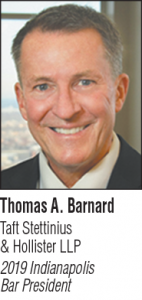 I have been fascinated by vertical flight ever since fifth grade, when I did a report on Igor Sikorsky. Sikorsky was one of the true pioneers in inventing functioning, useable helicopters, and in researching his work I marveled at his machines and how they not only defied gravity but allowed 360 degree movements at completely variable speeds. I began taking helicopter flight lessons in 1998 (one of the best Father's Day presents ever from my wife), and I've learned a few things in this process that apply to the practice of law.
First, hovering, which looks so simple in the movies, is an incredibly difficult flight maneuver (at least until your brain becomes wired with the actual "feel" of hovering so that instrument inputs are no longer conscious thoughts). One accomplished helicopter flight instructor and author put it this way: hovering is like riding a unicycle on a beach ball in a swimming pool. I cannot adequately articulate the stress, fear and feelings of hopelessness I experienced during my first months of practice. The fact is, the helicopter is actually flying, even just 15 feet off the ground, but the down-rushing air from the blades hits the ground and pushes back up violently, creating vortices and turbulence that pushes the helicopter in every direction. Maintaining a hover requires constant input on the controls: tail rotor pedals (yaw or twisting of fuselage), cyclic (forward, back, sideways) collective (up and down) and throttle (power — blade tilt). New pilots invariably overcontrol, leading to total loss of control and panic, followed by the instructor barking, "I've got the controls." The larger point is that flying a helicopter forward, straight and level is much easier than holding a hover close to the ground.
I think this is a metaphor for our practice and perhaps life in general. You've heard it said that no one stands still — you are either moving forward or backward (I think we can move sideways as well). Holding still is hard in our practice. We all want to move forward in every way we can, and we attempt to do so by increasing our knowledge, experience, technology, client base, successes or rulings, transactions accomplished. Sometimes to our dismay, the ill winds blow and we find ourselves moving backwards or sideways. New lawyers sometimes overcontrol, pushing too hard, or pull back too hard, until the more senior lawyer says "I'll take over now." But we remember how it feels to move forward, and we try again. The rotating blades of a chopper also remind me of the frantic pace and pressure sometimes felt in the practice of law. Yet the more experience we obtain, the less bothered we become by the constant movement overhead. Things seem to slow down and become more manageable.
One more aspect of helicopter flight applies to our profession. When helicopters begin to move forward, they achieve "effective translational lift" caused by the reduction of hover turbulence, coupled with the influx of oncoming, undisturbed air. The blades become more efficient, less power is required, and forward velocity increases with less effort. When we push away from a hover in our legal world, as we begin to move forward with new clients, increased experience, a new practice area, we also can gain forward momentum. Less effort is required to achieve even greater results We feel ourselves moving forward and it feels good. Just like the helicopter gradually lifting away from the runway, lifting over the tree line, and gliding over Geist Reservoir.
I want to squeeze one last metaphor from helicopter flight principles. People — the general public who are not lawyers but who face very real problems — can also face the problem of trying to hover or to stop from being pushed backward. They have no flight instructor to step in and take over when things start spinning. They do not know how to even return to hover by themselves. It is terrifying, and they feel hopeless and afraid. The IndyBar, through our staff, our many volunteers and our attorney panels, act as flight instructors for their legal problems. We step in, take the controls, and help them start to move forward again.
So far in 2019, the IndyBar has fielded 11,738 calls through Lawyer Finder. We average 50 referrals per day, but we refer 100 to 150 calls per day to other providers such as free legal advice lines and pro bono service providers. By year end, the IndyBar expects to have fielded approximately 30,000 calls. These tangible efforts are making a real difference in people's lives, helping them back to hover, then hopefully achieving effective translational lift as they rise above and leave their legal problems behind.•
Please enable JavaScript to view this content.