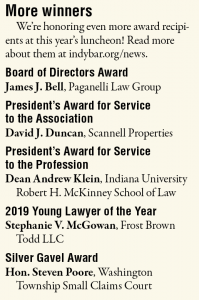 The Indianapolis legal community is fortunate to be home to thousands of individuals who work their hardest each day for the benefit of their profession, their community and their families. Join us on Nov. 19 at Meridian Hills Country Club as we honor just a handful of the many lawyers, judges, students and more who've made their mark in 2019.
In addition to honoring recipients, the Recognition Breakfast is the perfect collegial environment to catch up with friends, meet fellow lawyers and bar staff and talk to bar leadership about opportunities for involvement in the coming year.
Learn more about some of this year's recipients below and register online for the event at indybar.org/recognition.
Professionalism Award
Recipient: Julia A. Carpenter, Krieg DeVault LLP
According to her nominator, Julia is a natural leader with a very strong common-sense attitude that helps bring complex issues with diverse constituents into focus. It's for this reason and more, the IndyBar awards Julia A. Carpenter with the 2019 Professionalism Award.
Julia's practice at her firm is devoted primarily to commercial lending, banking, real estate, corporate finance and general corporate matters. She also serves as secretary for the American Bar Association's Board of Little Star Centers, an ABA therapy group providing services to children and adults on the autism spectrum.
Unsung Hero Award
Recipient: Crystal Francis, Indiana Legal Services, Inc.
Some would argue that one of the best things about great lawyers is that they'll often go above and beyond the call of duty and exhibit the highest level of commitment to others without the expectation of praise or recognition. Sometimes, these types of dedicated workers are hard to come by, and we're so thrilled to honor Crystal Francis this year for her selfless work as a public service lawyer.
Crystal works in Indiana Legal Services' Senior Law Project where she assists lower-income seniors with various civil legal issues and regularly participates in CLEs as a trainer and educational events in the community.
Dr. John Morton Finney, Jr. Award for Excellence in Legal Education
Recipient: James P. White, Indiana University Robert H. McKinney School of Law
Established in 1998, the Dr. John A. Morton Finney Award for Excellence in Legal Education honors the memory of Dr. Finney who, during his lifetime, demonstrated the value of education and a love of the law. Each year, the IndyBar is proud to honor a professional who has made significant and unique contributions to further legal education within our community. In 2019, we're proud to honor Professor James P. White with this distinguished award.
Professor White has taught at the Indiana University Robert H. McKinney School of Law for more than 50 years and also worked as the consultant on legal education to the American Bar Association for 26 years. He has retired from the law school but still has an office.
Pro Bono Award, Attorney Aiding Individuals
Recipient: Michael R. Limrick, Hoover Hull Turner LLP
The Pro Bono Awards honor practicing lawyers, retired lawyers, in-house and corporate counsel, law firms, law students and paralegals who have made outstanding contributions toward delivering volunteer legal services to the poor and disadvantaged. The IndyBar is excited to present one of two Pro Bono Awards to Michael Limrick.
Limrick, as pro bono co-counsel with Indiana Legal Services attorney Megan Stuart, was instrumental in a trio of appellate cases that ensure legal protections for transgender individuals seeking to protect their safety in name and gender marker changes. His pro bono work was also vital in presenting improper conduct by the trial judge in one of his cases.
Pro Bono Award, Attorney Aiding an Entity
Recipient: Carrie Hagan, Indiana University Robert H. McKinney School of Law
Professor Carrie Hagan is one of the principal volunteer organizers of the Re-Entry Fair for the Indiana University Robert H. McKinney School of Law, where she organizes students and volunteers. Over the four years the fair has taken place, Professor Hagan and her students have assisted hundreds of people with determining their eligibility for expungement, and should they be ineligible, giving them the information and the tools they need to understand why and what they can do to move forward. It is for these reasons and more that Professor Hagan has been selected for this Pro Bono Award.•
Please enable JavaScript to view this content.