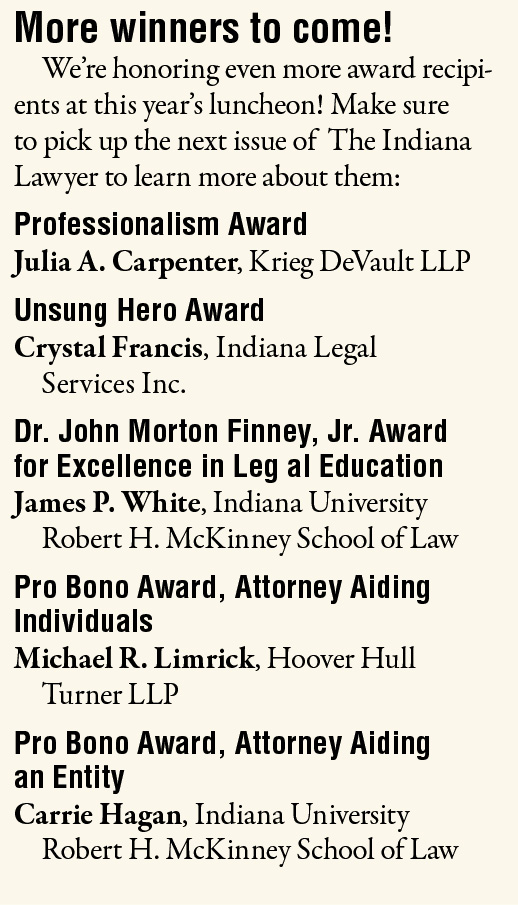 The Indianapolis legal community is fortunate to be home to thousands of individuals who work their hardest each day for the benefit of their profession, their community and their families. Join us on November 19 at Meridian Hills Country Club as we honor just a handful of the many lawyers, judges, students and more who've made their mark in 2019.
In addition to honoring recipients, the Recognition Breakfast is the perfect collegial environment to catch up with friends, meet fellow lawyers and bar staff and talk to bar leadership about opportunities for involvement in the coming year.
Learn more about some of this year's recipients below and register online for the event at indybar.org/recognition.
Board of Director's Award
Recipient: James J. Bell, Paganelli Law Group
The Board of Directors Award is bestowed on an IndyBar member who has demonstrated outstanding and unique service to the association, causing positive benefit for the legal profession. James Bell's lively personality and passion for keeping members informed is why he'll be recognized with the Board of Director's Award this year. He's been an integral part in developing the IndyBar Record, the IndyBar's first-ever magazine, and Off the Record with James Bell, the IndyBar's first-ever podcast.
An attorney at Paganelli Law Group, Bell focuses his practice in state and federal criminal matters, government investigations and professional licensing matters. He leads the firm's criminal defense and professional discipline team. In addition to his involvement with the magazine and the podcast, he's also the immediate past president of the IndyBar.
President's Award for Service to the Association
Recipient: Dave Duncan, Scannell Properties
The practice of law is constantly and rapidly evolving, and as the practice changes, the needs of our members change, too. After years of searching and homing in on how the bar should shift focus to better meet the needs of its members, it was determined that moving into a new space would be the right move for the Indianapolis Bar Association and Foundation. Many volunteers have worked tirelessly to help secure this future home, including Dave Duncan.
Duncan went above and beyond in leading the process to identify the bar's needs and negotiate the new lease. In recognition of the unique and outstanding service provided by Duncan, he's been awarded the President's Award for Service to the Association.
Duncan serves as counsel for Scannell Properties, a privately owned real estate development and investment company that focuses on build-to-suit and speculative development projects throughout the U.S. and Canada. He concentrates his practice in business services, including preparation and negotiation of loan/transfer documents for asset-based and real estate transactions and more. Duncan currently serves the IndyBar Board of Directors as treasurer.
President's Award for Service to the Profession
Recipients: Dean Andy Klein, Indiana University Robert H. McKinney School of Law
Back in 2013, applications to law schools plummeted and firms were hiring fewer graduates. When some might've turned their head on this challenging situation, Andy Klein charged with full force and became dean of the Indiana University Robert H. McKinney School of Law. Dean Klein is widely regarded for making positive change at this school and navigating it through a very tough time in legal education.
As Dean Klein's tenure comes to a close with his plans to step down in June of next year, we're proud to recognize him as the recipient of the President's Award for Service to the Profession.
Young Lawyer of the Year
Recipient: Stephanie McGowan, Frost Brown Todd LLC
Establishing yourself in the legal profession can be daunting, and there's something to be said about someone who faces the challenge head-on and exceeds expectations. The IndyBar is excited to recognize Stephanie McGowan of Frost Brown Todd LLC as this year's Young Lawyer of the Year for her efforts in serving newer members of the IndyBar and the greater community.
McGowan is the current chair of the IndyBar Young Lawyers Division. In this role, she's responsible for oversight of the division's educational, social and civic initiatives. She's demonstrated continued leadership and service within the IndyBar, having previously held other roles for the YLD and graduating from the Bar Leader Series. She also carries her volunteer work outside of the IndyBar and donates her time to Beyond Monumental, an organization dedicated to the health and well-being of children by hosting programs and events centered around running.
Silver Gavel AwardRecipient: Hon. Steven Poore, Washington Township Small Claims Court
"Judge Poore cares greatly about every person who enters his court," attorney Matt Dodson says about this year's recipient of the Silver Gavel Award, Judge Steven Poore. That's not something you can say about every judge, yet Judge Poore continues to display grace and compassion. It is for these reasons the IndyBar selects Judge Steven Poore as the 2019 recipient of the Silver Gavel Award.
Created in 2004, this award aims to spotlight judicial officers whose career exemplifies the high calling and higher achievement of practitioners in modern society. Judge Poore's commitment to fairness and collegiality epitomize the very definition of professionalism, so the IndyBar is proud to recognize his civility at this year's luncheon.
Please enable JavaScript to view this content.