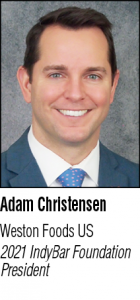 Brackets are busted. Florida and Arizona are the centers of the baseball world. Miami Beach is overrun by twenty-somethings flashing their parents' credit cards and, perhaps, other things as well.
Even in 2021, a year when the shots we're all to get aren't the ones Lil' Jon used to scream about, there is some small comfort to be had in seeing the tell-tale signs of spring.
Like any dutiful and slightly brainwashed Midwesterner, one of the main reasons I love Indiana is the seasons. We Hoosiers (and Little Giants) appreciate the good seasons because we live through the bad — or that's what we tell ourselves. And this year, more than any before it, we're all giddy for that good season that seems to be around the corner after a long, long bad one.
Fittingly, that good season seems to be scheduled for spring. Spring is awesome. It's the start of something good. It's the second longest season (true) and it's been gushed over in poetry and song more than any other (probably true). It's the time when we all emerge from our homes, clean the grill, sweep off the deck and celebrate a time of hope with friends and family.
This year, with the road before us full of promise, the Indianapolis Bar Foundation is working hard to provide safe, exciting opportunities to come back together, to come back downtown and to grab hold of some of that hope that has escaped us for the past year.
Block Party — May 27 at IndyBarHQ
We have a new home base, and, odds are, you haven't seen it. What better time to remedy that than May in Indianapolis? The pageantry! The engines roaring! The socks and sandals combos!
This year, the IBF is hosting its first ever Block Party to reopen IndyBarHQ and help lead a downtown resurgence in the days leading up to a momentous and historic Memorial Day weekend. We'll have food from local, diverse business owners, music, camaraderie and with any luck, lots of sunshine and fresh air not only from our back-alley block party but also from the wide open windows of our new headquarters. [Best Jim Nantz voice] It's a kickoff event unlike any other. Details at indybar.org/blockparty.
The Bench Bar Conference — June 17-19 at the Omni Louisville
The city that brought us Muhammad Ali, J-Law and Hunter S. Thompson now brings us…cannonball contests with judges?! It's not out of the question.
Like a Bell Biv DeVoe reunion concert, Bench Bar is back in full effect (with all requisite safety precautions, of course) at the fabulous Omni. Pool deck? Yup. Indoor/outdoor dining? Sure. Speakeasy?! Only if you can find the secret entrance. The IndyBar and IBF have a jam-packed schedule with tons of opportunities to reconnect within a bubble-like atmosphere. Like The People's Champion once said, "Don't count the days; make the days count." Details at indybar.org/benchbar.
Lawyer Links Classic Golf Outing — July 22 at the Country Club of Indianapolis
Happy Gilmore was onto something when he said, "Golfing requires goofy pants and a fat [editor's deletion]." After a year indoors, I'm willing to bet I'm not the only one sporting a more, let's say, voluminous posterior. Is it going to help my abysmal golf game? Probably not, but join the IBF in July at beautiful CCI to find out. You may win bragging rights over your similarly salmon-pantsed fellows or you may spoil a good walk. Either way, it's a fun, safe way to see your friends and support your bar. Details at indybar.org/golf.
IBF Drive-In Night — August 14 at Tibbs Drive-In
Load up your snacks, lawn chairs and blankets in the family truckster and join us for a wholesome night under the stars at Tibbs Drive-In. Drive-ins have experienced a resurgence during socially-distanced COVID times, and this is the perfect opportunity to enjoy a bit of nostalgia at this Indy landmark, the last standing drive-in in Indianapolis. While our movie selection is TBD, the fun in store for our members, friends and families can be confirmed. Details at indybar.org/drivein.
IBF Annual Dinner — September 24
The details of this event are shrouded in secrecy. Here's what our people on the inside are telling us: 1) we're going to gather for a blow-the-doors-off, indoor/outdoor dinner; 2) it will be a flexible, fun-filled, foodie paradise; 3) it ain't gonna be your granddad's stuffy supper club shindig. Save the date because this dinner is going to be [bring back that Jim Nantz voice] an event unlike any other. Details at indybar.org/dinner. •
Please enable JavaScript to view this content.