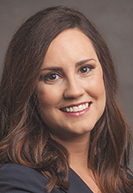 By Elizabeth Eichholtz Walker, Becker Bouwkamp Walker PC
After paring down in-person events in 2020 and easing back into them in 2021, the IndyBar Foundation (IBF) has been very active in 2022! This year, the IBF has worked to offer revamped and fresh events for our members under the leadership of IBF Board President Raegan Gibson. Many of the staple events such as the Legal Links golf tournament and the annual formal/black tie optional dinner remain. The new and revamped events this year included a February mixer with the Marion County Bar Association (MCBA), the March MCBA and APABA (Asian Pacific American Bar Association) Alliance discussion, the April Empowerment Awards Breakfast, the Bench Bar Horse Races and the August IndyBar's Got Talent Show at The Vogue.
As the legal community pivots and resumes in person offerings, please consider joining and participating in this community and these events. IndyBar Foundation events are a great way to connect with colleagues and opposing/co-counsel in a relaxed setting. Rarely are attendees talking law and often they are making connections and building relationships that last. While we are three quarters through the year, time remains to get involved and enjoy the IndyBar Foundation's events! The following events will take place before Jan. 1:
Law Prom. Sept. 30, 2022. Location: The Alexander Hotel. 7:00 p.m. Attire: formal. Come enjoy cocktails, dinner, dancing and fun! Tickets are still available. Don't miss it!
Day of Giving. Oct. 26, 2022. Location: Virtual & IndyBar headquarters. All day. Help the IndyBar Foundation raise funds that support our many charitable endeavors on our fourth annual Day of Giving. Stop by IndyBar HQ to say hello to those helping this virtual fundraising effort!
IndyBar's Giving. Nov. 22, 2022 to Nov. 28, 2022. Location: Virtual, online auction. Get a jump-start on your holiday shopping or just enjoy outbidding your fellow IndyBar members with our third annual online silent auction! Enjoy a week of bidding in the comfort of your home or office!
As a board, IBF is always looking for new and fun ways to engage and serve our members while raising funds for our many philanthropic endeavors. If you have any interest in serving on an IndyBar Foundation committee of an existing event in 2023, please reach out to Elisabeth Edwards, 2023 Indianapolis Bar Foundation president.•
Please enable JavaScript to view this content.