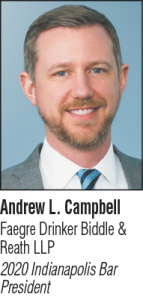 IndyBar leadership is closely monitoring the rapidly changing situation involving COVID-19 (coronavirus). To ensure the health and well-being of IndyBar members and staff, IndyBar will postpone and reschedule all in-person events at least through April 10, 2020. In addition, IndyBarHQ will be closed to members until that time, with the option to reopen if the situation materially changes. IndyBar staff will continue to work from IndyBarHQ so long as circumstances permit. If the situation warrants, IndyBar will close IndyBarHQ to ensure the health and safety of its staff. IndyBar staff is prepared to and capable of working remotely, if necessary.
In the meantime, IndyBar is exploring additional programing in the coming days and weeks to address legal challenges involving COVID-19. For example, on Friday, IndyBar hosted a webinar with infectious diseases expert Dr. Markian R. Bochan, and employment attorneys Amy Adolay and Scott Morrisson, discussing the medical and legal aspects of the pandemic. Dr. Bochan provided the latest information on the status of the virus in central Indiana and answered numerous questions about testing, transmission, exposure and his recommendations for social distancing. Amy and Scott provided substantial insight into how companies and employers should navigate issues related to force majeure and employer-employee relations.
If you need assistance from IndyBar, do not hesitate to contact IndyBar President Andy Campbell at [email protected] or IndyBar Executive Director Julie Armstrong at [email protected].
COVID-19 Updates
For the latest updates regarding the coronavirus crisis and the legal community, visit indybar.org/covid19.•
Please enable JavaScript to view this content.