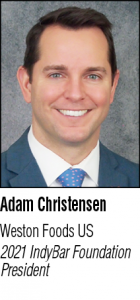 By the time this is published (please donate to the Indianapolis Bar Foundation, by the way), Alanis Morissette will have completed the Indianapolis swing of her rescheduled 2020 tour celebrating the 25th anniversary of her breakout album "Jagged Little Pill," and I will have attended my first live concert in over two years.
With luck, I will also have come to terms with the blunt reality that I am a 40-year-old pseudo-professional man who is giddy as a schoolgirl for a concert featuring one of the angstiest albums from one of the angstiest periods in "recent" memory: the mid-90s, a time when everything was pretty good and teenagers were pissed for no particular reason.
For the uninitiated, Alanis Morissette was, in 1995, a 21-year-old, middling Canadian pop singer and former cast member of Nickelodeon's "You Can't Do That on Television" (look it up, youngins). Then she released "Jagged Little Pill (JLP)" and became "Alanis".
The album's first single "You Oughta Know" was a radio force of nature. Its music video, which features Alanis yowling about explicit sex acts in a movie theater while changing clothes on a park bench in the middle of the desert (because…1995?!?), was MTV ubiquity.
"JLP" was an instant success. It earned six Juno Awards (the Canadian version of a Grammy, which, under 1995 exchange rates, would be roughly equivalent to 2.14 Golden Globes). It sold 33 million copies worldwide – 4 million more than the entire population of Canada at the time! And Billboard named "JLP" the seventh greatest Billboard 200 album of all-time, sticking it between Springsteen's "Born in the U.S.A." and [re-checks list] "All the Right Reasons" by Nickelback…eesh.
Here's the point: For whatever reason, "JLP" hit this 14-year-old author like an emotional Patriot missile. For days, all four feet, eight inches of me lay on my waterbed (because…1995) with the liner notes in my hands memorizing lyrics or surgically fast-forwarding through 65 seconds of dead air to find the hidden, haunting a cappella song "Your House."
So, when my significant other scored tickets to the "JLP" anniversary show and I streamed the album while working from home, all these memories, all these oddly familiar emotions, came rushing in. "JLP" has been with me for more than half of my existence. Could I reflect on the intersection between the lyrics of"JLP", a two-plus-decade-old feminist empowerment anthem, and the practice of law and do any justice to either? Let's find out:
"Do I stress you out?/My sweater is on backwards and inside out/And you say how-ow-ow appropriate"
The opening lyrics to "JLP"'s first track "All I Really Want" are a tidy little time capsule for 1995. Like the first paragraph in a well-organized oral argument, there is no doubt as to Alanis' position or the unrighteous forces she is up against. Attention grabbed, now, if it pleases the court, here's all I really want.
"It's not fair, to deny me/Of the cross I bear that you gave to me"
As far as break-up songs go, "You Oughta Know" has to be one of the favorites of the family law bar. Imagine putting jilted Alanis on the stand, then watching her eviscerate any opposing counsel who dares to cross-examine her. Permission to treat the witness as…incredibly hostile. (Yeah, I know that's not how it works.)
"It's the good advice that you just didn't take/And who would have thought?/It figures"
OK, so it might not meet an uppity lit major's definition of "irony," but the pain of watching a client or colleague turn down good advice is real in our profession. At least we as legal professionals can take solace in the words of Oscar Wilde: "It is always a silly thing to give advice, but to give good advice is absolutely fatal."
"I had no choice but to hear you/You stated your case time and again/I thought about it…"
"I care but I'm restless/I'm here but I'm really gone/I'm wrong and I'm sorry, ba-by"
There's a joke to be made from these lines about client and/or partner interactions, but I'm not mean enough to make it.
"And what it all comes down to, is that everything's gonna be fine, fine fine."
Preach on, Alanis.•
Please enable JavaScript to view this content.