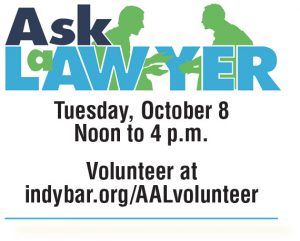 By John Hoard, Rubin & Levin PC
Twice a year, volunteer attorneys give free legal advice at a variety of Indianapolis locations through the IndyBar's Ask A Lawyer program in addition to a call-in option attended to by a group of lawyer volunteers at the IndyBar offices. In the past year, lawyers assisted more than 800 people in need of answers. Two attorneys who have participated in the program, Bianca Black and Matt Dodson, recently reflected on their experiences as volunteers for Ask a Lawyer.
Ask A Lawyer Provides Challenging Work
Bianca Black works as an employment lawyer for Littler Mendelson P.C. Bianca grew up in Gary, Indiana, and she was inspired at an early age by her parents to help others who are less fortunate. She first volunteered for Ask A Lawyer when she started with Kightlinger & Gray LLP in 2015. Bianca immediately gravitated to volunteer work because of the intellectual challenge and because the clients are so grateful! Bianca participated in Ask A Lawyer approximately 10 times in the first four years of her career.
Matt Dodson's solo practice began in 2012. He focuses his practice in family law, personal injury and criminal law, and he serves as the Rocky Ripple town attorney. Ask A Lawyer appeals to Matt because he loves the challenge presented by walk-in clients and dealing with new areas of the law. Matt remarked, "It reminds me of my days at the public defender's office during law school," and "it seemed like a great way to avoid burnout." Matt estimates he has participated in Ask A Lawyer 10 to 15 times.
Initial Fears Give Way to Good Advice Bolstered by Great Resources
It's common for many lawyers to feel intimidated by the Ask A Lawyer experience. Many worry about being asked a question they cannot answer. Bianca recalls she felt the same way. However, during Ask a Lawyer, there are resources provided for volunteers, including a Commonly Asked Questions book, which is updated each year by a team of IndyBar editors that provides multi-page overviews of the areas of law most likely encountered during a typical Ask a Lawyer session. In addition to the legal outlines, the Commonly Asked Questions book also includes a wealth of information regarding local, state and national agencies, which citizens can reach out to for further assistance.
As well, Matt commented that for most, the process of participating in Ask A Lawyer means providing people with a better understanding of the general rules of engagement and access to additional resources. Matt observed that much of the experience is helping people get on the right track of addressing their problems, or letting them know where to start. Often, the real issue is not the question being asked. Rather, the process often involves determining the correct question to be answered and then focusing available resources for the problem. Many times, part of the lawyer's advice and counsel will be to provide the name of local legal clinics that provide services in one or more of the areas of law identified during the interview. You're not alone, either. There are other lawyers in the room to ask for help, and the IndyBar also staffs the sites with experienced lawyers or paralegals who can bring further advice and resources to bear on a particularly nettlesome problem.
Memorable Experiences Revealed
Matt and Bianca both recount positive experiences when asked about their most memorable moments from the past. In Matt's case, he said once a citizen was overcome with emotion because she said he was the first person who had actually listened to her problems. "Although her case was unfortunate and full relief was probably not possible, she expressed her appreciation to have someone listen, explain the law, explain the process and help her understand what was happening," he said.
Bianca met a businesswoman who, through the course of their conversation, started a personal conversation about matters outside the legal issues, and they became friends.
Worth the Effort and Benefits Conferred
Bianca and Matt are grateful for their many experiences from Ask A Lawyer. Bianca believes the program has made her "faster on her feet" by forcing her to focus quickly on the matter before her and compose practical and contained advice in less than 20 minutes. Matt supports this statement by challenging lawyers to be the kind of lawyer they would want their own relatives to meet if they had a serious problem. Matt concluded, during Ask A Lawyer, "you can be that attorney for someone, even if it's just for a couple hours." To create your own opportunity for a new dose of personal growth, please volunteer for the upcoming Ask a Lawyer event by visiting indybar.org/AALvolunteer. Individual and groups of volunteers are welcome. •
Please enable JavaScript to view this content.