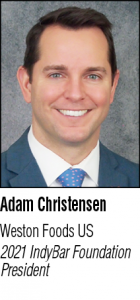 This may shock you, dear reader, so please, for safety's sake, do not continue reading if you are cooking over an open flame or trimming a baby's fingernails. Here goes: I am not cool.
Scandalous, but true. I'm not the alpha in most any room. I've never borne the burden of having too many dates to fit into my calendar. If I were being compared to an animal, "shark" or "lion" would be far down on the list after more apt appraisals like "platypus" or "Tigger." I'm not a trendsetter, a Casanova, or an aficionado. Yet, despite never being confused for Zack Morris or Dylan McKay, and with equal parts incredulity and humility, I was asked to lead the Indianapolis Bar Foundation from the front and to convince others to come along for the charge.
Many of you, too, have been asked to lead in the last year. Whether taking charge of a church group, or planning a friend's virtual birthday party, or commanding your own household to manifest an office and a classroom without adding a single square foot, these are the acts of leaders. And, let's be honest, if you're reading this hyper-industry-specific newspaper for the Indianapolis legal community, you're probably not cool either. Sorry.
How, then, is it possible that even in our enlightened age there remains such a disconnect between being cool and being a leader? Perhaps the answer lies in a second provoking, though less personally defeating, truism: Leadership is not cool. Case in point: prom kings are cool. Chairing the prom planning committee is not.
To be cool requires an air of effortlessness, of donning the comforting armor of knowing, not wondering, that your dimpled chin, your sports car and your outsized ego are all you need in the world to sidestep any challenge. Leadership, however, demands effort, requires taking on challenges with sweat and vigor and suffers no tolerance for oversized ego. In this respect, cool is the antithesis of leadership. And so agrees one of 2020's most influential and indelible leaders: Ted Lasso.
"Taking on a challenge is a lot like riding a horse," Lasso said. "If you're comfortable while you're doing it, you're probably doing it wrong."
Because I'm not cool, I was late to the "Ted Lasso" bandwagon. For the uninitiated, "Ted Lasso" is a sitcom about a goofy, mustachioed, relaxed-fit khaki-wearing Kansas football coach who is hired to manage an English Premier League soccer team. Without spoiling it, the best summary I've seen describes the show as equal parts "Major League," "Friday Night Lights" and "Mister Rogers Neighborhood." It's also chock full of golden nuggets on wisdom and leadership: "Be curious, not judgmental." "Whether you think you can or you can't, you're right." "Tea is horrible. Absolute garbage water."
"Ted Lasso," the show and the coach, are funny and heartwarming — an antidote to a pandemic spent with the scoundrels of "Succession" and "Ozark" and struggling, at times, to bear the yoke of leadership when the lightness of being cool seems so appealing.
To paraphrase another line from the show, in a business like ours that celebrates ego, look for the people who can rein theirs in. They won't have a spot at the cool kids' table; they'll be the ones running the whole thing with their friends by their side. BBQ sauce.•
Please enable JavaScript to view this content.