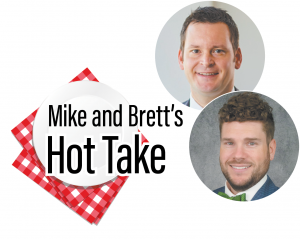 "Food is everything we are. It's an extension of nationalist feeling, ethnic feeling, your personal history, your province, your region, your tribe, your grandma. It's inseparable from those from the get-go."
– Anthony Bourdain
This is the beginning of a food review series from two attorneys who proudly consider themselves "foodies" and hope readers of the Indiana Lawyer will find a light-heartened, nonlegal based article entertaining and informative. As the late chef and TV travel personality Anthony Bourdain once said, "You learn a lot about someone when you share a meal together." We hope our articles are likewise another way for members of IndyBar to connect and discuss their own experiences of the great food being created by local Indiana chefs and restaurants. So, cheers to allowing us to share our food experiences with you, and hopefully we can share a meal (either in the literary context or in person) down the road.
First up in our series is "The Missing Brick," a family-owned pizza business located on the north side of Indianapolis which specializes in creating remarkable pizzas, often collaborating with other successful local restaurants.
The Missing Brick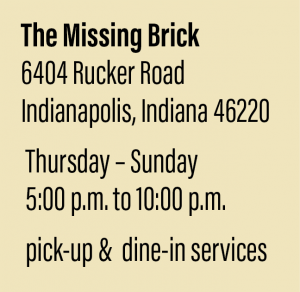 If you have yet to try The Missing Brick, you are missing out. Upon entering, you are enveloped by all things hip-hop, from the music to the murals on the wall — it's a vibe.
The staff was incredibly friendly and helpful as we decided what unique flavor combinations to try. It was clear that the owner, who took time out of the kitchen to talk to us, and her staff are passionate about food and very proud of the product they were making (as well they should be!). After much deliberation, we decided to order the Dough Buds, a half-Spinarella, half-Wood Stock pizza (yes, you can do half pizza combos) and The Trap Pizza.
There is no other way to describe the Dough Buds than little pillows of goodness. These light and fluffy balls of dough are packed with flavor. They are tossed in a garlic butter parmesan combination that will light your taste buds on fire and have you begging for more.
The pizzas have a nice crispy bottom and pillowy inside and are sturdy enough to hold the toppings, making them the perfect vessel for introducing the incredible flavor combinations. The Spinarella includes a base white sauce, spinach, mushrooms, caramelized onions and mozzarella. It is well balanced and flavorful, beginning with the earthiness of the mushrooms followed by the sweetness of the caramelized onions and saltiness of the cheese. If you are looking for a pie that is packed with umami, look no further.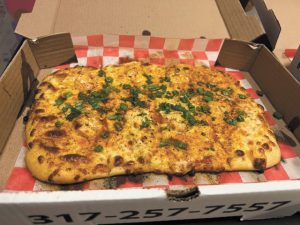 The Wood Stock highlights brisket from Hank's Smoked Briskets, a local restaurant that cooks Texas-style mesquite wood barbeque. Our taste buds were immediately hit by smoke followed by a sweet and tangy barbeque sauce. Hank's brisket is tender and flavorful with the perfect amount of smoke on it. The barbeque sauce is the perfect balance of sugar and vinegar, which results in a sweet and tangy flavor profile that brings the pizza together. If are a fan of barbeque, this is the pie for you.
The crown jewel of The Missing Brick is The Trap Pizza. An ode to another local restaurant — Chef Oya's The TRAP — this pizza is simply delectable. It features a base of Chef Oya's Garlic Herb Trap Buttah, eight jumbo shrimp (one per piece), lump crab, mozzarella, Foodlovetog's Young Bae Spice and is garnished with fresh parsley and green onion. Honestly, we were a bit skeptical about seafood on a pizza but were so glad we went for it. The richness of the garlic herb butter, sweetness of the shellfish, depth of flavor from the seasoning, saltiness of the cheese blend and pop of scallion blend together to create the flavor profile one craves in a seafood dish. This pie is a must try!
From start to finish, we had a wonderful experience at The Missing Brick. Do yourself a favor and check out this amazing local restaurant.•
Michael W. McBride is a partner at Cohen & Malad, LLP, concentrating his practice in the areas of business and real estate litigation and services. Brett Thomas is an associate at Cohen & Malad LLP, focusing his practice on business services, real estate and business litigation practice.
Please enable JavaScript to view this content.