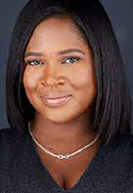 It's rare that a lawyer's career includes time spent as president of a nationwide bar association. It's even more rare when that attorney had a lead role in a case that captured attention across the country. Current National Bar Association President Lonita K. Baker has the distinction of achieving these unique career achievements. The Marion County Bar Association, a chapter of the NBA, and the law firm of Schultz & Pogue LLP have made it possible for conference attendees to gain insight from her when she takes the stage to discuss, "Serving and Litigating in the National Spotlight" on June 16 at IndyBar's Bench Bar Conference in Louisville, Kentucky.
A native of Louisville, Baker graduated from the University of Louisville with both her undergraduate and law degrees. She began her legal career at the Louisville Metro Public Defender Corporation and went on to serve as an Assistant Jefferson County (KY) Attorney in the Legislative Services Branch of the Civil Division and as a Supervising Prosecutor in the Criminal Division. She entered private practice with the Sam Aguiar Injury Lawyers then she burst onto the national stage as a member of the legal team representing the family of Breonna Taylor.
Louisville became the epicenter of claims of racial injustice in law enforcement on March 13, 2020, when 26-year-old Breonna Taylor was shot and killed by police officers serving a no-knock warrant at her home. A self-described pivotal point in Baker's career, the case resulted in a groundbreaking settlement with the City of Louisville, which included terms related to police reform in addition to securing one of the most significant financial awards for an individual civil rights case to date.
Today Baker serves as an associate corporate counsel for Waystar Medical Technologies Inc. As NBA president, she represents the interests of approximately 67,000 lawyers, judges, law professors and law students. The National Bar Association was founded in 1925 and is the nation's oldest and largest national network of predominantly African American attorneys and judges.•
Please enable JavaScript to view this content.