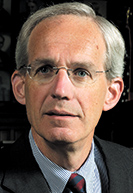 By Professor Frank Sullivan Jr.
The Indiana General Assembly has passed, and Gov. Holcomb signed into law, Senate Enrolled Act 468, which amends the Uniform Commercial Code to keep pace with legal and technological developments. The new law takes effect July 1.
For more than 70 years, our nation's two preeminent law reform organizations, the American Law Institute and the Uniform Law Commission, have jointly developed and updated provisions of the UCC to keep pace with changes in commerce. Last year, both the ALI and the ULC adopted amendments to the UCC (2022 UCC Amendments) to update it to cover a growing number of transactions involving digital assets that either were not handled efficiently by the existing code or not recognized at all. SEA 468 enacts the 2022 UCC Amendments in their entirety, with the exception of changes involving the definition of "money" that respond to concerns raised in Indiana and elsewhere during the enactment process. The text of SB 468 is lengthy and, in parts, quite technical; the following describes some of its principal provisions.
SEA 468 contains two types of amendments to the UCC: Some are related to developments in electronic commerce generally — like shopping on the internet — and some relate to "digital assets." In other words, some of the amendments don't relate to distributive ledger technology or cryptocurrency or anything like that — but only to the fact that the UCC itself dates to the time before electronic commerce and needs to be updated to accommodate online business transactions.
One example of an amendment related to developments in electronic commerce generally is that SEA 468 clarifies the legal rules that apply to so-called "hybrid transactions" that have become blurred with the emergence of transactions involving both the sale or lease of goods and the provision of other property or services.
A second example is that SEA 468 amends the definition of "conspicuous" to allow consideration of a broader universe of factors that are applicable to both written and electronic presentations. This approach is intended to be both more protective of consumers and more useful to drafters by providing more clarity and flexibility in the methods that may be used to call attention to a term.
As to "digital assets," SEA 468 applies not just to things like cryptocurrency or the so-called "non-fungible tokens," but to any "information … which is stored in an electronic … medium and is retrievable in perceivable form." These are called "electronic records" and include assets like transferable records under the E-SIGN law or Uniform Electronic Transactions Act (UETA), electronic chattel paper, and electronic documents.
Certain electronic assets qualify as "controllable electronic records." "Controllable electronic records" are generally those digital assets that are created using distributive ledger or "blockchain" technology. However, SEA 468 uses only general language like "controllable electronic records," and not language that refers to specific technology like "Bitcoin" or "blockchain." This is because the 2022 UCC Amendments have been designed to work for both technologies that are known (like Bitcoin and blockchain) and those that may be developed in the future.
Controllable electronic records qualify for special treatment as collateral under UCC Article 9 and are entitled to be acquired free of competing property claims. These are particularly powerful rules that will greatly facilitate transactions deploying distributive ledger technology, including not only Bitcoin and other cryptocurrencies, but also electronic accounts receivable and other rights to payment.
During the consideration of SEA 468, concern was expressed in Indiana and elsewhere that the bill would (1) encourage the development of a central bank digital currency (CBDC) in the United States and (2) restrict the use of Bitcoin and other cryptocurrencies. SEA 468 was amended to eliminate these perceived risks.
Enactment of SEA 468 gives Indiana the nation's most up-to-date commercial law and a powerful sign to businesses here and throughout the country of our superb and welcoming business climate.•
Professor Frank Sullivan Jr. is professor of practice at the Indiana University Robert H. McKinney School of Law, where he teaches courses in business and commercial law, and an Indiana University Bicentennial Professor. He was a member of the national drafting committee for the 2022 UCC Amendments.
Please enable JavaScript to view this content.