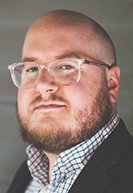 By John Gallo, Deputy Prosecutor, Marion County Prosecutor's Office
The new year tantalizes with the rarest of opportunities: the fresh start. Thinking people see the arbitrariness; why should the beginning of a new year be a better reason to turn over a new leaf than some random Tuesday? But that's needlessly pretentious — one recognizes the allure of the clean slate, of turning the calendar page and seeing only possibility.
Some will be more successful than others. Perhaps you will drop those 10 pounds or cut back a touch on the gin and tonics; or perhaps you won't. Personal progress isn't linear. The same inspiring calendar looks menacing come February when the scale tips the same or the gin bottle clinks more than half empty.
Why not focus on something solid, like learning a new skill? Specifically, why not learn about the Indiana expungement law!
While the Indiana expungement statute may seem intimidating, Indiana Code 35-38-9 will reveal itself to careful reading like the flower to the honeybee.
There are two main sorts of criminal expungements: nondiscretionary and discretionary. Basically*, nondiscretionary means that if your paperwork is in order, fees paid and enough time has passed, a judicial officer must grant your expungement. Discretionary means that you can do all the right stuff with paperwork, fees and timing, but a court decides whether or not to grant your petition.
Nondiscretionary expungements are covered in I.C. 35-38-9(1)-(3). Section 1essentially explains that all dismissed cases are eligible for nondiscretionary expungement a year after arrest. Section 2 covers misdemeanor convictions that are eligible after five years from the date of conviction. Finally, Section 3 explains that old D and current F6 felonies are eligible eight years from the date of conviction.
I.C. 35-38-9 (4) and (5) explains discretionary cases. Section 4 covers all those felonies not covered by Sections 3 and 5 and requires an eight-year waiting period from conviction (or three years after completion of sentence, whichever comes first). Section 5 is reserved for felonies resulting in serious bodily injury. A section 5 cannot be filed unless 10 years have passed from conviction (or five years from completion of sentence) and requires prior prosecutorial consent.
Certain cases, such as crimes resulting in death or most sex crimes, are never eligible for expungement (nice try, Charlie Manson!).
While the timing requirements may seem overly onerous, there is a mechanism within the statute to get your client an early expungement. In some cases, you can reach out to your local prosecutor (hey, that's me!) and request to expunge early. In Marion County, the quickest way is to shoot me an email expressing interest in an early, and I'll send you a form for you to review with your client.
This new year, make it your resolution to learn more about Indiana expungements. Keep an eye out for the IndyBar Criminal Justice Section's new look expungement CLEs, and please don't hesitate to reach out with questions. With a little studying (and moderation on the gin and tonics), you can give clients the gift of a fresh start.•
*To be clear, there's a bunch of nuance to all this stuff and what follows is a simplified primer.
Please enable JavaScript to view this content.