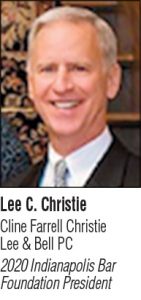 The Indianapolis Bar Association & Foundation are committed to assisting both its members and central Indiana families in need during the coronavirus crisis. The IndyBar has implemented two new programs by and for its members: The IndyBar Crisis Empowerment Grant Program and The COVID-19 Virtual Pro Bono Program.
The Indianapolis Bar Foundation (IBF) Board of Directors voted to implement the Crisis Empowerment Grant Program to support IndyBar members who are struggling economically during the coronavirus pandemic. The Crisis Empowerment Grant Program will provide grants of up to $3,000 for lawyers who provide legal services for central Indiana families in need during this time. Central Indiana community members will be pre-screened by the Indianapolis Legal Aid Society (ILAS), the Indiana Legal Services Organization (ILSO), the Neighborhood Christian Legal Clinic (NCLC) and the Indiana Coalition Against Domestic Violence (ICADV). These individuals will be paired with lawyers who are also struggling economically at this time. Services will be provided in the areas of family law, landlord-tenant rights, labor and employment law and domestic violence for those affected individuals who have lost income due to the COVID-19 virus and who cannot afford traditional legal services.
Recently, the IBF Board voted to redirect funds of $35,000 from the Community Empowerment Grant to the new Crisis Empowerment Grant Program (formally called the Impact Fund Grant) to assist struggling lawyers with immediate financial need. Eligible attorneys are those who are:
• IndyBar members;
• Licensed to practice in Indiana since January 1, 2008;
• Working as a solo practitioner or small firm with five or fewer attorneys, or who are unemployed.
The lawyers must be in good standing with no active disciplinary actions. Notices to potential applicants were sent out via IndyBar communications, direct messaging via the IndyBar Solo and Small Firm Division, an article in the Indiana Lawyer and targeted emails to IndyBar members.
Up to five hours of time will be reimbursed at $100 per hour for each client. The maximum total amount that may be granted to any attorney for participating in the program is $3,000. Attorneys electing to apply must have completed and submitted their application by Wednesday, April 15. The Crisis Empowerment Grant Committee will select grant recipients on Thursday morning, April 16 and will immediately notify the applicants of their selection and pair them with clients of the ILAS, ILSO, NCLC, and ICADV.
The IndyBar has also instituted a virtual pro bono program titled Ask a Lawyer where volunteer IndyBar members field inquiries online and over the telephone. Due to the crisis, the traditional IndyBar Ask a Lawyer and Legal Line programs have been suspended and replaced by the virtual Ask a Lawyer program, which allows individuals to seek assistance or information from IndyBar Lawyer volunteers without requiring a visit to an Ask a Lawyer physical location.
Volunteers are needed and welcomed for the Virtual Ask a Lawyer Program. You can participate from your home or office, so please email Kari Hartman at [email protected] if you're able to volunteer!
The IBF Board voted not to assess any operational costs to the Crisis Empowerment Grant Program so all dollars will be allocated directly to the program. If you wish to donate to the program, you can donate by going to indybar.org/donate. One hundred percent of all funds collected will go directly to the grant program. The program will continue until the funds are exhausted or by a vote of the IBF Board of Directors. To show my support for this wonderful program, I am contributing $5,000 to the Crisis Empowerment Grant Program. I invite others who are in a position to help out our struggling members and local families in need to also donate.
The Indianapolis Bar Association is committed to assisting its members at all times and particularly during times of need or in a crisis such as the one we are in. The IBF joins the IndyBar in its efforts during these extraordinary times. Together, we can help in so many meaningful ways for our attorneys and families that need legal services.•
Please enable JavaScript to view this content.