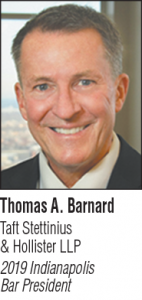 Retired Admiral William McRaven's 2014 commencement address to the graduating class of the University of Texas contained timeless advice, but these particular words resonate the most with me: "If you want to change the world, start off by making your bed." Admiral McRaven explained that as a Navy SEAL, the first assigned task every day was to carefully and meticulously make your bed to the exacting Navy standards. He said, "[i]f you make your bed every morning, you will have accomplished the first task of the day. It will give you a sense of pride, and it will encourage you to do another task and another. By the end of the day, that one task completed will have turned into many tasks completed. Making your bed will also reinforce the fact that little things in life matter. If you can't do the little things right, you will never do the big things right."
This advice finds perfect application in our profession, and I have been thinking lately about the importance of perfecting our process. Every lawyer will have to decide what task is equivalent to "making your bed," but for me- it is making and double checking my "to-do list" for the day, the week and the month. This simple task allows me to plan, prioritize and gain a sense of organization and control. Another process I have is to tackle the "hard" project first, rather than putting it off for easier projects. By breaking our work into tasks within our control, our success in achieving these steps builds on itself and creates a sense of confidence and achievement. It also helps avoid becoming too outcome-focused. So much in the practice of law is out of our control.
As a brand-new lawyer, I had the feeling that every project assigned to me was unfamiliar and daunting in the sense that the assigning partner's expectations were never quite as clear as I would have preferred. Every project was new, and that is a scary prospect. It seemed that the senior partners had a wisdom and sense of confidence that was either unattainable or at least well down the foreseeable path. I wondered when I would break the tape at the finish line, as if a single point of complete competence existed.
I do not believe that any such place exists. I have found that as we gain experience, hone our skills and learn from others, we do so in a profession that lacks immediate feedback and clear demarcations. But if new lawyers pay attention to the little things, they will earn a reputation of competence. I really appreciate a young lawyer who has a reputation as reliable, timely, forward-thinking and thorough. When an associate follows up (without being asked) to see if there is anything more she can do or offers a suggestion about a strategy having written the research memorandum requested, I am heartened to be in the presence of someone who is invested and is implementing a process that creates confidence and competence. This blocking and tackling is the bedrock of all high-achieving lawyers. If we do all of our "process" tasks well, we can properly attach our professional self-worth to these daily accomplishments, notwithstanding an adverse result beyond our control.
I recently attended an IndyBar program featuring Senior Judge Sarah Evans Barker and Magistrate Judge Debra McVicker Lynch, both of the United States District Court for the Southern District of Indiana. It was an outstanding program for both new and more senior lawyers. Judge Lynch reminisced on her private practice days when young lawyers took every adverse ruling as a personal failure and reminded us that virtually every case is ultimately decided on two things beyond every lawyer's control — the facts and the law. I believe her point was that we should do our best to represent our clients without allowing our sense of self-worth to be outcome dependent.
Judge Barker offered both practical and professional advice, including an excellent recommendation that litigators begin written discovery with well-drafted requests for admissions to better focus the case (i.e., the case is about x and not about y). Yet, she also offered life advice that applies to all lawyers, not just litigators: "whatever is out of your control is teaching you to let go." We should heed this advice from these two highly respected judges.
One of my favorite aspects about our IndyBar is that it pulls together venerable judges, young and older lawyers, litigators and transactional attorneys in programs and events that encourage us to share our respective "processes." The program with Judge Barker and Judge Lynch is a perfect example. These are two of the busiest federal judges, in one of the busiest districts in the entire United States, yet they took their valuable time to meet with lawyers to share their insights and recommendations. They did this because they care deeply about lawyers and about our profession and it benefits the bar to have this caliber of program. By taking pride in our process and by sharing our experiences with other attorneys at IndyBar programs and events, we lift each other up, we inspire each other and we recharge our batteries. If we "make our beds" and also make the IndyBar part of our process, we will feel more confident and find the practice of law more satisfying and rewarding. •
Please enable JavaScript to view this content.