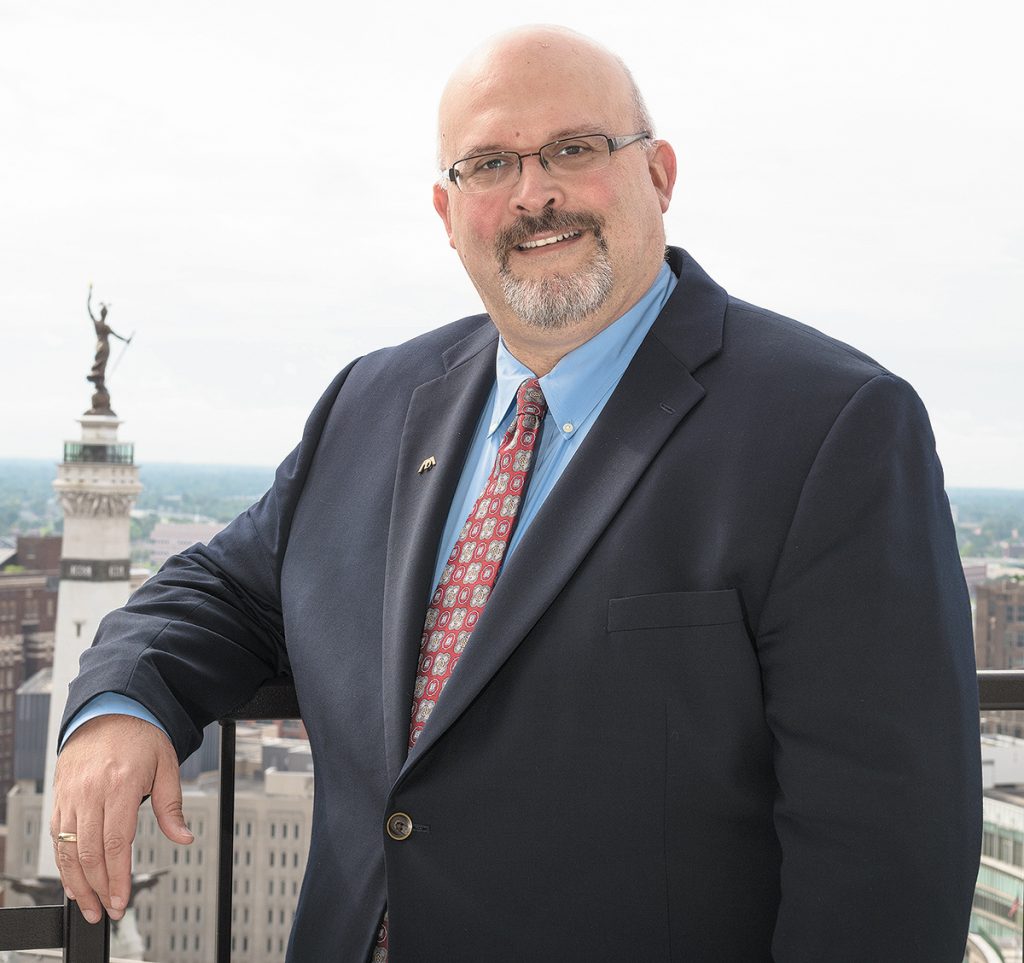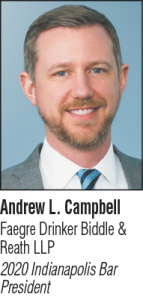 In February, fellow IndyBar leaders and I attended the mid-year meetings of the National Conference of Bar Presidents and the National Conference of Bar Foundations — all of which were associated with the American Bar Association (ABA) Mid-Year Meeting in Austin, Texas. While the conferences are certainly worthwhile for the leadership and association development opportunities, it is the camaraderie with other IndyBar leaders that makes these events special. Our group always enjoys nice dinners and conversation about how to better serve our profession through the IndyBar. Since 2015, when Jim Dimos became the deputy executive director of the ABA, he always took time out of his hectic responsibilities running the ABA meeting to join our group for dinner. Fortunately, our February trip was no different, and I spent a wonderful evening sitting with Jim and other bar leaders discussing the challenges and opportunities facing the profession. In particular, Jim talked about his development of the ABA's new value proposition — something that all bar leaders are facing. Jim's insight and ingenuity were inspiring, and I have been a better IndyBar president because of it.

Not long before our dinner — in September 2019 — Jim was promoted to deputy executive director and general counsel of the ABA. He was second in command of the ABA staff and had responsibility for numerous functional areas within the ABA, including membership, the professional services division, legal education, admission to the bar, the Center on Public Interest Law, strategy development and managing the ABA offices in Chicago and Washington D.C.
Importantly for our community, Jim served as IndyBar president in 2001 and president of the Indiana State Bar Association in 2013 and 2014. Jim's passion for the profession — through his bar service, his leadership on the former Indiana Pro Bono Commission and his practice at Locke Reynolds and Frost Brown Todd — was palpable to all who interacted with him.
When we learned that Jim passed away earlier this month, the outpouring of support and remembrances from past IndyBar and Indianapolis Bar Foundation presidents was immense. Nearly every IndyBar leader with whom I've interacted in my 15-year career shared a memory of how Jim touched the profession, and often their individual practices, in a tangibly positive way. He was a "truly great gentleman and a kind soul," "a tremendous example of all that is good about our profession and our association." Those who litigated against him found him to be a "worthy but sensible advocate and opponent," who was instilled with "honesty and transparency," but also "a well-reasoned, prepared and able adversary." As a bar leader, he was "supportive of diversity initiatives particularly," and served on the Board of the Marion County Bar Association. In that role, "he was determined to break down any barriers to entry to and accessibility to bar activity for lawyers of color." He was remembered as a "talented and giving friend," "treasured" by his colleagues. He was a "remarkable and extraordinary bar advocate," "unfailingly kind, funny, smart and a tremendous lawyer and family man." Indeed, many remembered Jim as the consummate family man who "was exceptionally proud of his kids" and loved to talk about "the accomplishments of the Brebeuf soccer team." Jim will be terribly missed by his IndyBar brethren.
Soon after our February dinner with Jim, the profession was immeasurably affected by the pandemic and an essential focus on racial justice. I paid particular attention to Jim's Twitter feed and learned from and relied on his leadership of ABA during these tumultuous times. Personally, I will miss Jim at bar leader and member events, but more importantly, our profession will miss his dedication, leadership and advocacy.•
Please enable JavaScript to view this content.