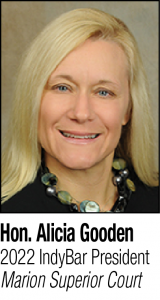 Welcome to 2022! I awoke on Jan. 1 renewed, reenergized and reinvigorated! "It's a new year, and it is going to be a fantastic one," I said to myself as I considered the upcoming year at the IndyBar, the courts' move to the Community Justice Center and our daughter's graduation from high school. But my over-optimistic thought was fleeting. Because, then… WHAM! omicron hit Indiana like a freight train without brakes. Jury trials are temporarily suspended in Marion County, the IndyBar installation postponed until March and our January IndyBar board meeting was held virtually instead of in person. "Ugh, here we go again," the now-resigned voice in my head said, my hopes and excitement for the upcoming year having been suddenly squashed once more. This is NOT the way I envisioned this year starting, and I am confident that at least some of you reading this, perhaps most of you, feel the same. However, my personal theme for 2022 is "embrace the journey" (there will be more on my mantras/themes/yogi mindsets in a future column; I know you cannot wait), so just as we have before, we will take this in stride, overcome and be better for it!
Despite the never-ending pandemic, I am thrilled (and honestly slightly terrified) that this year is here. I am honored to assume the role of president of the Indianapolis Bar Association, just as others have done for the last 144 years. I have pretty large shoes (or really, motorcycle boots) to fill, as past-president Jimmie McMillian has set the bar high: the implementation of the diversity, equity and inclusion plan, a record-setting Bench Bar Conference, which included the inaugural Juneteenth Celebration and the launch of "The Seat is Yours" networking events, just to name a few of his accomplishments. Most noteworthy about Jimmie, though, is his passion for lawyers, particularly younger or less experienced ones, and getting them involved, getting them mentored, getting them connected and even getting them jobs! His enthusiasm is contagious, and I hope I can carry that along with me over the next 12 months to further the pursuits he started. Thank you, Jimmie, for your leadership.
The incoming board of directors, as well as the IndyBar section, division and committee chairs, kicked off the year with our planning retreats in November. We spent two days collaborating, strategizing, listening and planning for this year. Much of the discussion focused on the prolonged challenges stemming from the pandemic — how can we continue to provide value to our more than 4,000 members who are largely still working remotely? What programming and events will entice members to come to IndyBarHQ or other venues to be educated, network, better themselves physically or emotionally, or just be social? There are many people constantly brainstorming answers to these questions — specifically, 28 members of the board of directors, 18 section chairs, five division chairs, 20 chairs of committees, councils, task forces and work groups, and last but certainly not least, the 10 incredible staff members of the IndyBar! All of us want to ensure this year brings our members satisfaction, fulfillment and pride. If you have ideas, thoughts or concerns — we want to hear from you! Reach out to any one of the 81 people above (you can find all those in leadership on the IndyBar website), contact the executive committee of your section or division, or call me!
So, what's new in '22, you ask? In addition to the countless number of online and in-person CLEs, here are some notable events to watch for: the 2022 Bench Bar Conference returns to the Omni Hotel in Louisville, KY, from June 16-18 with a companion In-House Counsel Retreat CLE Getaway taking place as well. All of us will come together for plenary sessions but these two conferences are separate and unique. The IndyBar Destination CLE is also back this year (It's a personal fan favorite of mine!) Mark your calendars for Nov. 3-5, 2022, at Caesars Palace and Casino in Las Vegas, NV. If you have never attended this event, I urge you to join us. Not only is it Vegas — fantastic shows, food, golf, spas, shopping and casinos — but the sessions will be highly engaging and interactive. Be on the lookout for more details on both events very soon.
For those of you in the 25 years of practice or more category (sadly, my husband and I just joined this group, making us feel very old), we have added a Masters Division to our roster of sections and divisions, with past IndyBar Foundation President Lee Christie at the helm. Lee is working hard to form his committee and develop applicable programming, along with planning mentoring programs and the celebrations for IndyBar members celebrating both 25 and 50 years in practice. Please reach out to Lee if you are interested in assisting.
The IndyBar continues its development and implementation of our Diversity, Equity and Inclusion plan. While our efforts in 2021 focused internally on the association, we now embark on Phase II, which focuses on the legal community as a whole. Chaka Coleman is the IndyBar's DEI accountability director, and she will work closely with Shelley Jackson, a vice president on the IndyBar Board of Directors, along with Mike McBride of the IndyBar Foundation Board of Directors. I am grateful to be working alongside Valerie Johnson from the Marion County Bar Association, Rachana Fischer from the Asian Pacific American Bar Association and Enrique Flores, an IndyBar vice president who is spearheading the recently created Hispanic Lawyers Committee. There is much more to be done, but we are making progress. Chaka and Shelley will provide more details in a future column — after Chaka takes the February bar exam!
By the time you read this it will be February — already one month into the year. With a little luck, we will be on the upside of omicron and not faced with another variant or some other crisis disrupting normalcy. My request of you — be involved in the IndyBar. Take advantage of the many free opportunities the IndyBar offers (you should have just received a mailer with this list, but you can see your member benefits at indybar.org/benefits). Surround yourself with other members facing the same challenges as you. Attend an event or CLE in person, and bring a friend or even better yet, an opposing counsel you don't know well. Use the space at IndyBarHQ, even if only to get a drink or a snack and check some emails. Get involved in our mentoring programs or in a committee that interests you. In return, I pledge to dedicate this year — whatever it may bring — to the IndyBar and all of you. Let's embrace this journey together.•
Please enable JavaScript to view this content.