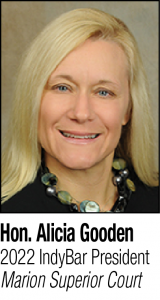 There is a commercial that causes me to chuckle every time I see it — it's for one of the insurance companies that has all the birds slamming into the house, potted plants and patio umbrella. The neighbor over the fence asks, "Why are these birds so angry?" It is this line that brings out the bittersweet laugh, largely due to our now-15-year-old son who used to be fixated on all things Angry Birds — the games, the stuffed animals, the T-shirts. Those were the days, right? Now my too-cool-for-school teenager barely cracks a smile when that advertisement comes on.
Thinking about the "angry birds" raises another, less pleasant thought: angry lawyers. For the last two years, the repetitive comment I have heard from countless attorneys is how angry and contentious everyone is. While certainly they are referring to their clients and other litigants as well, the focus is on the attitudes and demeanors of opposing counsel. As a judge, I have seen it firsthand, unfortunately. Lawyers who haven't spoken to one another prior to a mediation or a hearing, lawyers who patronize, or worse yet, berate the opposing party or counsel, lawyers who smile or laugh while the other side is testifying, lawyers who send nastygrams to counsel (without understanding that sometimes that correspondence winds up before a judicial officer — really?) and lawyers who are just downright abrasive and angry. While bad behavior has always been present, I would agree with my attorney friends that it appears to have gotten worse.
So, what is behind this? Can we blame the pandemic, like we have everything else? Politics? Social media? The seemingly constant rain in Indiana? (Seriously, it's been raining all day as I write this; even my dogs looked angry when I dared to suggest that we go outside for the morning potty break.) I would probably put the pandemic high on the causation list — not to justify the behavior, but it helps me understand it a bit better. Many of us have been isolated for long periods of time, and until recently, a good number of attorneys hadn't even been in a room with an opposing counsel since prior to March of 2020. Conferences and CLEs, which often promote socializing and at least healthy exchanges of ideas, were mostly virtual as well, and many still are. Sadly, many have experienced personal loss as a result of COVID-19, which certainly (and understandably) can alter one's disposition. We have all been behind cameras for so long that perhaps there is an illusion that you will never have to face another attorney, or judge, in person again.
Well, news flash: You will! Courts are holding increased in-person proceedings, mediations are being held in person and more and more CLEs and events are occurring with attendees in seats. Chances are that the opposing counsel you were hostile to at the remote hearing will be sitting across from you in the courtroom or the mediation table soon, and won't that be awkward?
I often say to myself when trying to make a decision in a case, "It's amazing what you discover when you read the law," and so I think some of the basic tenets of our profession are worth repeating. The preamble to the Rules of the Professional Conduct in paragraph 1: "A lawyer, as a member of the legal profession, is a representative of clients, an officer of the legal system and a public citizen having special responsibility for the quality of justice. Whether or not engaging in the practice of law, lawyers should conduct themselves honorably." And paragraph 7: "[A] lawyer is also guided by personal conscience and the approbation of professional peers. A lawyer should strive to attain the highest level of skill, to improve the law and the legal professional and to exemplify the legal profession's ideals of public service." Likewise, both the Civil Division and Family Law Rules in Marion County contain a Commitment to Respect and Civility. I won't recite the whole commitment here, but a couple of noteworthy segments: "I will maintain the highest level of professional integrity and personal courtesy … ; I will not intentionally speak or act in an abrasive, hostile, offensive or acrimonious manner toward parties, counsel or courts." Even if you do not practice in those areas, they are a mandatory read in my opinion and contain guidelines that every lawyer should subscribe to.
We all have our share of challenges, and sometimes we have experiences that just make us angry, plain and simple. But disregarding our oath and the parameters for our practice does not improve the legal profession nor our reputation within it. Indianapolis is a small legal community, and attorneys who are lacking in collegiality and professionalism on an ongoing basis are known for that. In addition, despite what these attorneys and their clients may think — acting poorly does not make you a better lawyer. In fact, some of most brilliant lawyers I've seen can deftly cross-examine a witness with a smile on their face and without raising their voice. The witness never even knew what hit them.
If you are feeling out of touch with your colleagues and craving some in-person interaction, the IndyBar has ways to help. The Professionalism Committee has mentorship programs that can connect you with attorneys and other resources. There will be a town hall meeting regarding the move to the Community Justice Center on April 13 at IndyBarHQ (140 N. Illinois St.) The IndyBar Foundation is hosting Trivia Night on April 20, the Empowerment Breakfast on April 21, and the Block Party on May 26. And, of course, the IndyBar Bench Bar Conference and the In-House Counsel CLE Getaway are fast approaching on June 16 to June 18. Maybe, just maybe, attending one or more of these events will help turn those frowns upside down. You can sign up for all of these events at indybar.org/events. You, and the profession, will be better for it!•
Please enable JavaScript to view this content.