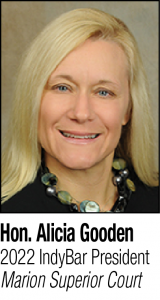 Well, this is it. My last president's column. I am sure you are shedding a tear or two, sniff sniff. Or more likely you are thinking, "Thank goodness, she's done. Let's hope 2023 President Rebecca Geyer is more captivating in her writing skills."
At this time every year, I am always in awe that another year has passed. Each December seems to come more quickly than the last, and this year was absolutely no exception with all the IndyBar activities keeping me particularly busy. We accomplished a lot this year; here are a few highlights:
• IndyBar Block Party, 2022 Bench Bar Conference (with the inclusion of the newly created In-House Counsel Division's companion conference), Indiana Bar Foundation's Talent Show, Golf Outing and Law Prom were just a few of the incredibly fun events this year.
• Increased our commitment to continued diversity, equity and inclusion (DEI) efforts through the establishment of an alliance between Indianapolis Bar Association, Marion County Bar Association and Asian Pacific American Bar Association and created the Hispanic Lawyers Division.
• For the first time, recognized our Bar Leader Series graduates as we kicked off Bench Bar.
• Assisted the Marion Circuit and Superior Court in the transition to the Community Justice Center.
• Bid farewell to some longtime IndyBar staffers this spring and summer and welcomed new team members by fall.
• Our own Julie Armstrong was recognized as one of Indianapolis Business Journals's 2022 Women of Influence.
• Held our strategic planning retreat in the fall as we considered how best to deliver value to all our members.
• AND SO MUCH MORE!
As you might guess, none of the above would have occurred without the dedication and extremely hard work of many people. A leader is only as good as his/her team, and there are countless people I need to thank for making this year so successful and so rewarding:
• My core leadership team, and the future presidents of IndyBar, Rebecca Geyer, David Duncan and Lee Christie for their input, wisdom and support.
• Raegan Gibson, 2022 Indianapolis Bar Foundation president, for your energy, ambition and partnership.
• Every past president who reached out and offered support and kind words throughout the year.
• Every member of my board of directors, and in particular Travis Van Winkle, Jennifer Lukemeyer, Enrique Flores, Nicholas Huang and Debi Dobbins for saying "yes" to being a vice-president/counsel to the board.
• Each chair of a section, division and committee for your vision in your respective roles.
• Each and every staff team member at IndyBar, and especially Julie Armstrong, Kari Hartman and Deneen Fitzgerald, for their fortitude, perseverance and positivity in the face of some challenging months.
• Every member who volunteered their time at any event or gave of themselves for a special project or wrote one of these Lawyer columns or spoke on a CLE panel or planned a CLE or answered questions on the virtual help desk or assisted with unrepresented litigants at the CJC's Legal Resource Center or helped in any other way with any association or foundation activity,
THANK YOU ALL!!!!!
So, now what? A new year is upon us, with new leaders, new tasks to tackle, new value to deliver. How will 2023 be different, both for you personally and in your legal journey? We often pontificate our resolutions around this time — many of which are often discarded by Feb. 1. If there is one IndyBar resolution I would urge you to make, it is to come to HQ. Almost every time I was at our headquarters this year, I met someone who had never been there before. This is YOUR space, designed with our members in mind and built for you to use. Stop in and get a cup of coffee, a fountain pop or some popcorn. Bring your computer and do some work. Use the free space or rent out the larger rooms. Hang out for a while and say hello to the staff team or other members who are there. Come to an in-person CLE or event. Whatever the reason, or for no reason at all, just come. We have beautiful and comfortable space that needs used. No need to worry about parking — there is a garage and surface lot on site. I hope to run into more of you there in the coming year.
The passing of the gavel will be bittersweet. This has definitely been a role that I will always cherish; it has been an honor to serve all of our members and work closely with many of you. As I said in my installation remarks last January, I love lawyers — my husband, Will is a lawyer, most of my friends are lawyers, and I have a passion for the legal system and the practice of law. Will and I have been members of the IndyBar since we graduated from law school over 25 years ago. While I may no longer be your president, you won't be getting rid of me just yet. IndyBar will remain an integral part of my career and community for many years to come.
I can't wait to see what the future holds. This isn't goodbye — just see you soon and thank you for an incredible year.•
Please enable JavaScript to view this content.