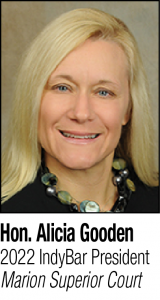 In full disclosure, I asked two different people to write this column. One was an attorney friend of mine, and the other was my husband. One of these two politely declined due to a large caseload and other professional obligations; the other ignored me. I'll let you figure out which person did what, but let's just say the one who ignored me is playing golf right now on the shores of the Pacific Ocean in Oregon! So, it looks like you are stuck with me. Now, I wasn't purposefully trying to pawn off my presidential responsibilities (although I am always looking for volunteers to write a message, let me know if you are interested); I simply thought the topic might be better received by the readers if the author wasn't a judge. I was trying to avoid coming across as "preachy." My apologies if I failed in that attempt, but here goes.
Let's talk about decorum in the courtroom. I've told you before that I'm not much of a movie-watcher, but I have seen most of the "classic" law-related movies: "To Kill a Mockingbird," "12 Angry Men," "Kramer vs. Kramer," "My Cousin Vinny," "A Few Good Men" and "Liar Liar," to name a few. In a number of these movies, there are various scenes — some extremely funny and some not so much — that portray lawyers and judges in an unflattering and unrealistic manner. I just rewatched the scene in "Liar Liar" in which Jim Carrey and his opposing counsel call each other "bastard" and "hag" in the midst of a trial. Hopefully none of you have experienced that in real life. Spend a few minutes googling "courtroom scenes" and you can find clips of Judge Judy shows as well as real life courtrooms depicting really, really bad behavior by litigants and (unfortunately) lawyers alike. One poor judge in Texas had the misfortune of being spit upon by the defendant before her — I've been yelled at, threatened and had a pen thrown at me, but thankfully, no bodily fluids (yet).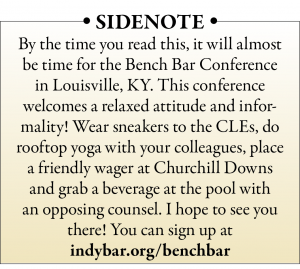 The problem with all of this is that it blurs the lines between what is real and what is not, or what should not be real. Citizens in our communities watch these movies, shows, TikTok or You Tube and believe they depict reality and that it is acceptable to act like buffoons in court. I often tell litigants that this isn't the "Jerry Springer/Judge Judy/fill-in-the-blank show," because they often appear in court believing they will be the next reality TV star. While I love remote hearings and the increased access to justice it provides for litigants, I do think appearing via video contributes to at least the perception of a more relaxed or informal courtroom environment. Case in point, I've had litigants smoking, wearing nothing but underwear and laying in their beds during a hearing. Unless it's a confidential proceeding, I politely remind them that the hearing is being livestreamed for all to see, and do they really want people wondering if they prefer Hanes or Fruit of the Looms? It is beyond my depths of comprehension as to why any human would deem it acceptable to appear before a judge in that fashion. But given what is blasted all over social media, I suppose it is not that surprising. I am curious, however, whether these litigants' attorneys advised them of acceptable "on-camera" behavior. I would like to think they did but were ignored.
It's one thing to be a bit more informal from your home office computer (or cellphone, as the case may be) versus carrying that casualness into a true courtroom setting. But alas, some do not see any distinction, and it can be reflected in the general attitudes toward the justice system. This is where lawyers must take the lead and be responsible for modeling behavior and appearance that we want to see emulated by the parties and others in the courtroom. I've never been a huge stickler for the attire worn by lawyers in court — if you look nice and at least somewhat professional I'm good — but I do have to admit it has gotten more and more informal over the past few years and certainly since COVID. For example, yoga pants should be saved for yoga. Sneakers for running. T-shirts for after hours. You get the idea.
To me, the point is not how I view the lawyers in court, but how the litigants and the public view the lawyers in court. If the perception held by the public is that a court proceeding is nothing more than a "dog and pony show," then that is how parties will appear and act. If attorneys do not take the court process seriously, through their actions, words and appearances, then parties surely will not as well. Lawyers have a responsibility to model good behavior and present themselves in a dignified manner. When they demonstrate respect for the process and the judicial system, their clients will be more likely to do the same. Then perhaps the movies will be appreciated for their entertainment value only and not reality.•
Please enable JavaScript to view this content.