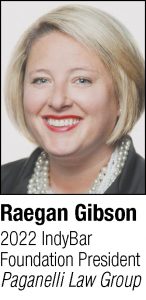 I am proud to serve as president of the Indianapolis Bar Foundation, and I cannot wait to share what we have in store in 2022. Over the last few months, the IndyBar Foundation Board of Directors, comprised of some of the most incredible, creative and talented volunteers, has been hard at work planning how we can provide more value to our lawyers and judges, increase and expand the legal services we provide in our community and pull off some of the best events yet. Here is my vow to you.
We are going to help lawyers. The IndyBar Foundation provides a tremendous amount of financial assistance to law students and lawyers. Since its inception, the IndyBar Foundation has awarded more than $235,000 in scholarships to law students. We will continue providing these scholarships to assist law students in taking the bar exam and attending law school. We will also continue our financial support of the Diversity Job Fair, through which we actively recruit law students of diverse backgrounds from across the nation to interview with law firms in the Midwest. Finally, we will continue funding the technology through which IndyBar provides virtual CLE so that we can safely and conveniently continue our education in the law.
We are going to help our community. The IndyBar Foundation runs award-winning charitable programs that allow our attorneys to provide free legal services and fulfill their pro bono duties while helping people in need throughout central Indiana. We will continue hosting Legal Line, which is a monthly event where attorneys answer calls and provide legal advice over the phone; Ask a Lawyer, a semiannual event featuring one-on-one consultations with people in need at libraries, community centers and other locations in and around Indianapolis; the Virtual Help Desk, an online daily chat service where the public can chat with attorneys and get legal advice in multiple languages; the Homeless Shelter Project, which is a program that provides direct assistance to our homeless population to remove barriers to housing; the Free Wills Clinic, which is a semiannual program that provides direct assistance to qualified, low-income residents to create wills and advance directives; and the Hospice Program, which is a program that provides direct assistance to people in hospice centers to work on guardianships, powers of attorney, wills and most of all, peace of mind in their final days. Over the last five years, we have supported more than 2,000 lawyer volunteers in providing legal services to more 10,000 people in our community. And, we have no intention of slowing down.
In addition, we will continue our tradition of awarding a $35,000 Community Empowerment Grant to a nonprofit entity or governmental organization that furthers our mission of advancing justice and making a significant and positive impact in central Indiana. This grant has allowed us to partner with some incredible organizations to make a difference in the community: Reach for Youth's Teen Court (2012), Indiana Legal Service's Military Assistance Project (2013), the Peace Learning Center (2015), Indy Reads (2016), the Indiana Legal Services Eviction Avoidance Project (2018), the Center for Victim and Human Rights (2019) and Reach for Youth (2021). We are actively interviewing applicants for our next partnership.
We are going to have a ton of fun. In order to fund our scholarships, grants and charitable programs, the IndyBar Foundation hosts a variety of fundraising events every year. These fundraising events bring law students, lawyers and judges together for networking, fellowship and a lot of fun. This year we have quite the lineup: Trivia Night this spring, the IndyBar Block Party in May, a fun Bench Bar event, the Lawyer Links Classic Golf Outing in July, a talent show in August, Law Prom in September, the Day of Giving in October and the IndyBar's Giving online auction in November. Please stay tuned for more details.
We simply could not do the good work we do without you. I hope that you will continue to support us in 2022. If you have any questions about the IndyBar Foundation and/or want to get more involved, please don't hesitate to reach out to me at [email protected]•
Please enable JavaScript to view this content.