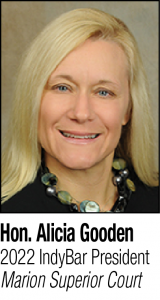 Unless you are one of the few that read Indiana Lawyer on the day it is distributed, you will likely be reading this in November, my favorite month of the year. I know it can often be dreary, windy and rainy, and the pumpkins have all been destroyed by squirrels, but it has a lot of worthy offerings, as well! November is a huge birthday month for my family — we start off the month with mine and end the month with my husband, Will's, and celebrate the birthdays of my sister, our daughter, dear friends and multiple aunts, uncles and cousins in between. I gotta say, the months of February and March were (and still are) pretty busy for some folks!!!
Besides the obvious one, we also celebrate two additional national holidays in November. Election Day, regardless of your political affiliation, is a day that should be celebrated in recognition of our right to vote — a privilege that many across our world do not have. The second is Veteran's Day (which also happens to be our daughter's birthday), in which we honor all of those who fought for our country. For all of our lawyer-veterans, thank you for your service and for your commitment to our country. We deeply appreciate the sacrifices made by all veterans who have fought to defend the aforementioned right to vote, along with all of our rights and freedoms.
November is a month in which football, especially college football, really heats up. Yes, I am one of those people who literally gets depressed after the Super Bowl because I have to wait another six months for my favorite sport to start up again! We have spent our Saturday mornings, and now Friday nights, watching our son play football since he was in first grade. Unfortunately, this year there have been a lot of losses, but it doesn't take away the joy of watching your kid do something he loves. This football season is more exciting for our family because we are finally cheering for a winning team — the University of Tennessee Volunteers — thanks to our daughter for choosing a Southern school and spending our money there! While I'll always cheer for the Hoosiers, SEC football is unlike anything I've ever experienced. And when Alabama loses, all the better. Sorry, Tide fans (especially James Bell, who is still licking his wounds, I'm pretty sure!).
IndyBar is hosting two significant events in November, as well. The first is the HEAL Committee's Celebration of Career and Memorial Service, to be held at 3:30 p.m. Nov. 16 in the ceremonial District Court. Sadly, each year there are multiple lawyers and/or judges who have passed with whom I have worked or known over the course of my career. While the service is somber, it is one that I and others enjoy because we hear about all the wonderful attributes and hobbies of our brethren outside of the practice of law. The family members truly appreciate the remarks and personally hearing from colleagues expressing their condolences and admiration. Please mark your calendars for this special occasion.
The annual Recognition Breakfast will be held from 8-9 a.m. on Tuesday, Nov. 22, at Meridian Hills Country Club. We will congratulate a number of award winners, including the following:
• Enrique Flores, recipient of the President's Award for Service to the Association, for all his work on behalf of law student engagement as well as the newly approved Hispanic Lawyers Division.
• Marion Superior Court Administrator Emily VanOsdol, recipient of the President's Award for Service to the Profession, for her tireless efforts in both leading the court through the pandemic as well as the move to the Community Justice Center.
• John Kautzman, recipient of the Luminary Award, the highest honor bestowed by the IndyBar Board of Directors, for his endless passion for the organization and his unsurpassed commitment to the legal community.
We will also enthusiastically celebrate our 50-year practitioners — more than 20 of them this year! What a milestone to achieve, and these recipients deserve our applause and appreciation for their contribution to the legal profession.
Please join me in raising a coffee mug to all the honorees on Nov. 22.
Of course, no column about November would be complete without mentioning the Big Kahuna of this month's holidays: Thanksgiving. It is my husband's favorite (partially because his birthday occasionally falls on the same day) and as our children have grown older and prefer trips over "Santa" during Christmas, I tend to prefer it, as well. It is the culmination of the gratitude that embodies the entire month. We talk at the dinner table about the grace we have received and all we are thankful for. It is the calm before the storm of the "true holidays." While there may be battles with turkeys and screaming at football games, it is generally a day of peace and reflection. In that spirit, I express gratitude for all of you and the entire legal family: judges, lawyers, paralegals, support staff, court staff, IndyBar staff and everyone who plays a role in our world. Without you, the puzzle isn't complete — we need every piece. Thank you for all that you do and contribute to our profession. I appreciate you immensely.
Happy November, everyone!•
Please enable JavaScript to view this content.