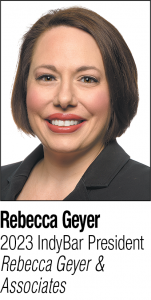 Ladies and gentlemen, it's May, so start your engines and race over to register for IndyBar's annual Bench Bar Conference. This year's conference will take place from June 15-17 at the Omni Louisville Hotel and will be among our best conferences ever. If you like to have fun, spend time with friends, hang out by the pool, attend fabulous parties and get your continuing legal education, then you won't want to miss this amazing event.
The conference begins Thursday morning with a golf outing at the Covered Bridge Golf Course for those who wish to hit the links. In the evening, the party moves to the River House for dinner, live music and cocktails overlooking the Ohio River. This year's conference features a new Fast Pass (available only to the first 100 purchasers), which will give you quicker access to registration, bars and access to the cabanas by the pool (space permitting).
On Friday, the programming begins with the Indiana Supreme Court followed by Lonita Baker, the president of the National Bar Association, speaking about her experience representing the Breonna Taylor family and litigating in the national spotlight. The conference will break for a Junteenth Celebration Lunch with guest speaker Judge Doris Pryor from the United States Court of Appeals for the Seventh Circuit. Thereafter, the afternoon is packed with panels of experienced practitioners providing practical advice; various professionals speaking about financial planning, mindfulness and more; a bourbon tasting; and an interactive game of legal Jeopardy. The programming raps up just in time for cocktails, a banquet dinner and a mix and mingle by the pool.
On Saturday, the conference will close with a breakfast and a panel moderated by the Honorable Timothy Oakes and 10 distinguished judges from Marion County and surrounding counties providing invaluable practical advice and practice tips for litigators in central Indiana.
If the programming and social events are not enough to entice you, consider attending Bench Bar for the networking alone. Bench Bar provides a unique opportunity to meet peers and experts in your field. By bringing together judges, attorneys and other legal professionals from various specialties and backgrounds, attendees are given opportunities to network with individuals they may not regularly interact with. You may meet legal professionals who can offer new perspectives and opportunities to connect with potential clients, especially if you specialize in a particular area of law. By building relationships with other legal professionals, you may gain referrals or leads for new business. Few events provide so many networking opportunities.
So race on over to registration before it's too late. More information can be found at indybar.org. I look forward to seeing you in Louisville!•
Please enable JavaScript to view this content.