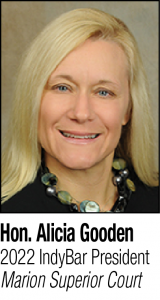 I have a confession to make: I have an affection for cheesy little sayings, memes, GIFs, signs for the home and so on. At the lake, I have collected many signs over the years: "Live Lake Love," "Lake House Rules," "Life is Better at the Lake," — you get the picture. In fact, it's gotten to the point that my husband, Will, absolutely refuses to hang one more sign in the house. I'm sure you've seen the Progressive Insurance commercials in which the older gentleman is coaching a group on how not to become their parents. My favorite is with the woman holding the sign: "No fussin, no cussin …" and then the coach throws the sign in the trash before she finishes the sign's proclamation. Will always laughs and says, "OMG that is YOU!!!!" Sigh. We all have our vices.
I'm not exactly sure what fuels this silly love of mine. I think it might be rooted in my fondness for yoga. If you have ever attended a yoga class, you have likely heard the teacher engage in some form of yoga talk. "Calm the mind," "Yoga is to be lived," "Have an attitude of gratitude," "Inhale peace and harmony, exhale conflict and fear," "Just breathe," and more. While it is difficult to do a daily yoga practice, I do try to practice the positive affirmations every day. Some of my favorites are "You are enough," "Be present," "Be calm," and "Enjoy the moment." Some of them admittedly are hokey, but they truly do help me to focus on the day and the task before me.
So besides giving you all an opportunity to laugh at me, why should you care about this? Because lawyers (and judges) are really good at negative self-talk. I bet you've said these words to yourself before: "I am not smart enough," "I will never win that case," "That judge never likes my arguments," "I can never make my clients happy," "I am so bad at this." I've said all of those words and worse over the course of my career — I'm sure I'm not alone. This internal beratement is more than just negative; it can affect us in so many ways, both physically and emotionally. It can affect our sleep, blood pressure, how we treat our family members and close friends, and can lead to negative behaviors like overeating, overdrinking and abuse of medication. And of course, all of this can affect our practice of law — it's a vicious cycle!
Having a more uplifting mindset can pave the way for improved mental and physical health and impact our daily work and our relationships in a positive way. Fortunately, lawyers around the country are taking notice and have started to prioritize their well-being. At the fall judicial conference, there are several wellness sessions offered AND approved for CLE credit! What began as an ABA task force has now morphed into the Institute for Well-Being in Law (IWIL). I would encourage you to go to www.lawyerwellbeing.net and sign up for their e-newsletter. I've seen articles on leadership fatigue, lawyer dementia, vicarious trauma, mental health and yes, negative self-talk! IWIL has a ton of helpful resources that can help all of us step back from the incessant chaos in our profession, even just momentarily. But just as in yoga, the more we practice, the more we improve. Try starting your day with a positive reflection or affirmation, maybe even before your feet hit the floor. Repeat it throughout the day whenever you feel the stress coming on, or when you'd rather yell at yourself for a perceived screwup. If you can't think of anything to say to yourself, use the motivational creed of now-former Indiana Supreme Court Justice Steven David, whom I had the honor of listening to at the judicial conference this week: "Work hard, do good, be proud, have fun!" (Thank you, Justice David!)
Another way to counteract negative thoughts is to show appreciation for someone or something, and IndyBar is doing just that this month — by appreciating our members! We recognize the extreme pressure you feel day in and day out, and to show our gratitude for your hard work, IndyBar has some great offerings for you, all of them FREE: CLE, headshots, Taco Tuesday at HQ, yoga with yours truly and more! Check out the calendar at www.indybar.org for the complete listing of events. There are multiple opportunities to achieve some work-life balance, calm your mind and enjoy time with your colleagues! Hope to see you! •
Please enable JavaScript to view this content.