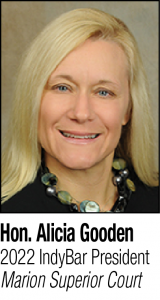 As some of you know, I am a pretty active person. OK; that may be an understatement. I'm a very active person. My husband Will and I walk our dogs every morning and often every night before bed. I try to lift weights, take a CrossFit class or do yoga from home several days during the week as well. I've cajoled a number of you into waking up early at Bench Bar or a judicial conference to join the running group or come to my yoga class at what some would say is an unacceptably early hour. A few special friends have been tormented by accompanying me up the death hill in French Lick. I fondly recall a memorable hilly trek in Sedona during a destination CLE, during which one of my hiking partners lamented (and still does to this day) that I subjected her to a "near-death experience." That's a tad exaggerated by the way — there were only a few little slips on the steep grade of a mountain with "beware of bear" signs everywhere!
My activity level translates to daily life as well. Much to my husband's annoyance, I don't sit down much. The last time I watched a movie was on March 21, 2020, after the Executive Committee of Marion Superior Court had spent the prior two weeks shutting down the court and converting to remote operations, and I was the most exhausted I had been since giving birth. I have never watched a series on Netflix, despite hordes of people giving me advice on what to watch and why. It is not that I dislike movies or mini-series; I just feel like I can't possibly devote the time to them. "Too many other tasks to accomplish" is my mindset. My television watching is almost solely focused on sports (mostly football and basketball) and HGTV, which I can keep an eye on while making dinner or checking emails or folding laundry. I have been known to often conduct "walk and talks" — walking meetings in person or while on the phone. I'm killing two birds with one stone!
I've often wondered whether this drive to be in a constant state of motion is actually healthy. I'm not sure, except that I've been active my entire life (well, except when I was on bed rest for eight weeks in the hospital, but that's a whole other story) and I cannot imagine my life any other way. If I think about it more deeply, I recognize that it's my version of a coping mechanism. It is the way I handle stress, conflict, work/case load, litigants — all the things that all lawyers have to manage. But is never slowing down and instead moving at record speed from one thing to the next without really thinking doing me any good? Alas, probably not.
As lawyers, we carry a lot of mental baggage. I have tried to be more mindful in my activities, and it's the primary reason I have done much more yoga and meditation in the past few years. I have realized as I have aged that my mind needs a reset even more than my physical body. Purposefully being present is extremely challenging for me. I constantly find my mind wandering to my next task on the to-do list, but I keep practicing. Why is this important for me, and for all of you in the legal community? Because, quite bluntly, stress kills. It can lead to heart problems and strokes, and it can increase the use of alcohol or worse yet, the use and abuse of non-prescribed medication or drugs. There are too many lawyers who have succumbed to substance use disorders, heart attacks or suicide. All of us know someone in these categories.
Research demonstrates that practicing mindful behavior can improve your mental and physical health by reducing chronic pain, lowering blood pressure, and combatting depression and anxiety. It can make you happier and more content, and isn't that something we should all strive for, given our challenging profession? Additionally, if we can be more mindful doing the things we enjoy, whether it is a physical activity, a hobby or even watching a movie or TV show, then we give our brains a chance to hit the refresh button. When we return to the trial prep, the appellate brief or the discovery responses, we are in a better place mentally and emotionally.
Thankfully, legal organizations are taking notice that lawyer and judge wellness should be a priority. The Indiana Judicial Conference regularly offers sessions relating to mindfulness, wellness and compassion fatigue, and there are opportunities for physical activity during conferences. The American Bar Association created a National Task Force for Lawyer Well-Being, which has now morphed into the Institute for Well-Being in Law that hosts an annual "Well-Being Week" in May. The Indianapolis Bar Association created a Wellness Work Group in 2018 with Judge Heather Welch as chair, with substantive offerings throughout the year, including at the Bench Bar Conference, which features a morning walk/run and yoga (shameless plug: I'll be leading yoga again this year outside on the pool terrace!)
The IndyBar has hosted mindfulness and meditation sessions and has showcased holiday wellness tips. Loretta Oleksy and her sweet pup from the Judges and Lawyers Assistance Program are often present at IndyBar activities to offer resources or even just some cuddly doggy time. Caitlin Byczko is this year's IndyBar Wellness Committee chair; be on the lookout for events to help you recharge, put the work stressors on the back burner and maybe even relax a little. Whether you plan to run a marathon, take a yoga class, try a new meditation app or simply watch the latest Netflix series, I hope you take advantage of some rejuvenation this year — physically, mentally and emotionally. The legal profession needs you and needs you at your best. Be well and be healthy everyone!•
Please enable JavaScript to view this content.