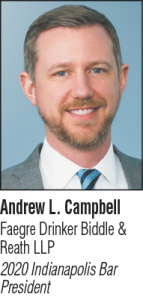 During difficult or stressful situations, my wife often accuses me of being "Positive Parker," a reference to Alec Baldwin's character in "Friends," who Phoebe describes as "Santa Claus on Prozac at Disney Land…" Parker puts a positive spin on everything — a dead dog, "Event Room C," traffic jams, you get the idea. I admit that I often look for the bright side and have continued to do that during the pandemic. But the fact of the matter is that most of us in the Indianapolis legal community (and more broadly) are facing significant disruption that is hard to spin. IndyBar is no different. While we have had wonderful success during this difficult time — for example, hosting more than 20 free live webinars on the impact of COVID-19 on the practice of law attended by nearly 2,000 of our members — we are also facing significant challenges.
The bottom line is this, IndyBar budgeted income of over $2 million in 2020. As a result of the pandemic, however, we are anticipating a 40 percent shortfall, or $845,000. This is primarily the result of cancelling or significantly revamping key events such as the Bench Bar Conference, Diversity Job Fair, special seminars and in-person CLE. Similarly, the IndyBar Review program — a significant revenue source — will likely be substantially impacted by the uncertainty around the July Indiana Bar Examination.
At the same time, the IndyBar (like many of our organizations) has implemented often difficult expense-side strategies to avoid dipping into our reserves considering future uncertainty. In addition to traditional contract and expense management, IndyBar has made very personal and difficult decisions around staffing. The IndyBar has terminated two part-time employees and furloughed three full-time employees until at least early August. In addition, our Executive Director has voluntarily taken a significant pay cut.
Considering these factors, the IndyBar has revised its 2020 budget to reflect anticipated income of approximately $1.28 million. Fortunately, due primarily to strong membership renewals, we have realized a little over $1 million in 2020. This leaves a delta of approximately $256,000 of minimum income to meet our new budget, rehire our terminated employees and bring our furloughed employees back; not to mention position ourselves for likely continued disruption in late 2020 and 2021, which may put our reserves in play.
Despite these challenges, the Positive Parker in me continues to find the good wherever I look. I had the pleasure of hosting two meetings in the last two days with the IndyBar Board of Directors and section, division and committee leaders and our new Strategy 2020 Task Force. All told, more than 50 leaders within IndyBar came together on short notice to learn about the financial disruption discussed above and to brainstorm ways to continue to bring meaningful products and services to our members in cost-effective ways. The dedication, engagement and creativity of these leaders was inspiring. Despite clear challenges, the fundamentals of IndyBar — our members' commitment to serving the profession — is stronger than ever. I personally look forward to the implementation of these leaders' vision. This is what the IndyBar was designed for in 1878 and what it will continue to deliver in the century to come.
After Phoebe throws Parker out of her apartment for being too positive, he comes back to exclaim, "Isn't this the most incredible fight you've had in your entire life?" Even though we are faced with difficult and stressful circumstances, much of me feels Parker's positivity. IndyBar has responded to the pandemic with incredible speed, responsiveness and purpose. And, while we have made difficult decisions, we are well-positioned to recover those losses and position our profession for success in the face of future uncertainty. While I would never wish for the pandemic, it has been incredible to see the IndyBar's response. Personally, I will continue to focus on finding the good, even if it sometimes annoys my wife — I love you, Emily (IndyBar member since 2008.)•
Please enable JavaScript to view this content.