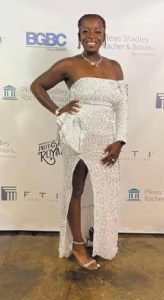 By Lisa McMillian
For nearly six years, I have had the pleasure of being with Jimmie L. McMillian Jr., whom I affectionately refer to simply as "Tac," your 2021 IndyBar President. On Aug. 22, 2019, we became husband and wife. Many of you were present during our magnificent biker wedding celebration.
As his wife and a non-lawyer, I have had the unique opportunity to support my "Superman" as he flies around the city of Indianapolis answering any and every call for help.
As a non-lawyer, I have attended IndyBar meetings, galas, trainings and legal conferences and been welcomed with wide and open arms by members of the bar. I have often thought that if only I had been exposed to lawyers like you when I was growing up, perhaps I would have been inspired to become a lawyer as well. I truly believe that is why my Superman always answers the call to mentor and speak. He wants to tell everyone that they too can be an attorney, if that is what they choose to do.
I am very proud of my husband. I am extremely excited to be married to a lawyer. Yes, I brag about it to my friends and family all the time. Yes, I refer him to solve everyone's legal problems. They teach you all how to do that in law school … correct?
Throughout Indianapolis, Tac is known for his most admirable quality of being "100 % real." It is precisely why I fell in love with him. It is also what makes him a great lawyer and leader of your bar association and our motorcycle club. It is what makes him the best husband and father in the world. It is in the spirit of keeping it 100 % real that Tac asked me to write this column to provide you with tips for keeping your non-lawyer spouse happy. I am not an authority on the topic, and this is simply from my perspective as the loving wife of Superman, therefore, the first tip is for you to read this article with your spouse, listen and develop your own list.
Tip No. 2 is to build trust with your non-lawyer spouse by being honest about your professional relationships. Lawyers network and connect with a lot of people. Breakfasts, lunches, receptions, dinners and late nights at the office. It helps if you introduce your non-lawyer spouse to some of those individuals or take the time to briefly explain the nature of your relationship.
Tip No. 3 is to communicate. They teach you how to do that in law school … correct? Make sure you understand that you are communicating with a non-lawyer, but that does not mean you are communicating with someone who is inferior to you. Big words and long quotations are not always good ways to get what you want. Remember, you are communicating with your spouse and not arguing with opposing counsel or making a demand of the court. Do you want to win the argument or win our heart? Maybe they did not teach you that in law school!
Tip No. 4 is to make time for your non-lawyer spouse. Lawyers are very busy and high-strung. Typing, texting, phone calls, meetings, speaking, leading, arguing, planning, mentoring. You make a lot of money but, when do you get to enjoy it? If your spouse is like me, we enjoy the occasional dinner, date night, vacation, massage and simply quiet time to laugh and reflect. Insert some time on your calendar each week for the one you love, even if you can't bill him or her for the time. It will be worth it!
Tip No. 5 is to affirm your non-lawyer spouse. It can be very intimidating to be in a room full of the smartest people in the world. So many lawyers wear an image of perfection when they walk in the room. At awards ceremonies, we listen to their list of accomplishments, hear the applause from the crowd and wonder, what does our spouse think about us? Take the time to tell your spouse why he or she is great and recognize them publicly and privately for their accomplishments no matter how big or small. You should never be ashamed to tell someone how in love you are with everything they do.
Tip No. 6 is to do your fair share at home. You are a lawyer, not the king of England. Pick a task or two or three, laundry, dishes, cooking, lawncare, drop-offs and pick-ups of the kids, cleaning up the bathroom and help your non-lawyer spouse with keeping your home clean and orderly. Do they teach that in law school … no? Well now you know. Go home and grab a broom and mop!
Tip No. 7 is to be understanding. Already, I know that the lawyers reading this article are trying to dissect what I mean by the word "understanding." For just a second, please forget what they taught you in law school on this one! Just take the words "be understanding" how they may come to you and your spouse in the moment. It can mean doing everything or doing nothing at all. It can mean taking action or sitting in silence. Imagine a concept for which there is no bright-line rule. I can only tell you that what is understood need not be explained. Now you are really confused. Great! I have always wanted to confuse a lawyer!
That is all I have for you today. I truly hope there is something contained in this column that helps you and your non-lawyer spouse. I have enjoyed being the "First Lady" of the Indianapolis Bar Association this year and I don't mind sharing my Superman with the world. Everyone should benefit from what this incredible man has to offer. I am blessed that after saving the day and defending the planet, Tac comes home and takes his cape, boots and superhero costume off with me. I know that your spouse feels the same way! Thank you for all of your kind words, hugs and genuine effort to make me feel accepted and comfortable. I appreciate it and I appreciate you.•
Please enable JavaScript to view this content.