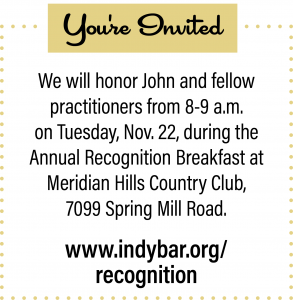 What does it mean to be a luminary? It is a person who has attained eminence in his or her field or is an inspiration to others; in its adjunctive form it is categorized as relating to or characterized by light.
The IndyBar Board of Directors is pleased to bestow its highest honor and lifetime achievement award to a true luminary and leader of the profession, John Kautzman, Ruckelshaus Kautzman Blackwell, for his endless passion for the organization and his unmatched dedication to the legal community.
IndyBar staff recently sat down with John to reflect on his career, his passion and his contributions to the Indianapolis legal scene.
When questioned about his legacy, John responded, "I would hope to be remembered as a nice guy, a great trial lawyer that is passionate about representing his clients and the law enforcement community, and that always advocated for the good of the profession." His advice to the next generation of lawyers? For Kautzman, it's simple: "Be present and fully embrace the profession, practice and honor of being a lawyer."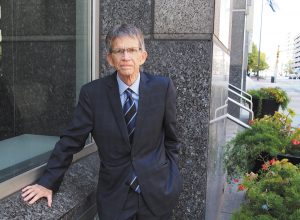 A husband, stepfather and grandfather, Kautzman made clear the greatest fulfillment comes through the love and the joy of his family. And though he has a vast list of professional accomplishments, he says, "I've been honored with so many blessings (far more than I deserve, frankly) but two highlights from my career include being president of IndyBar and being inducted into the American College of Trial Lawyers."
In asking what makes him so enthusiastic about law and his career, he notes that "showcasing your skills while helping people at the same time in a way that is ethical while being collegial with your fellow practitioners and being passionate about the profession makes for a fulfilling career." He continues, "I believe that lawyers have a fundamental good about them and there's a common thread where attorneys want to use their talents to make people's lives better." Kautzman certainly has done so.•
This article has been corrected to reflect that Kautzman is a stepfather.
Please enable JavaScript to view this content.