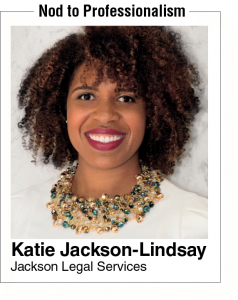 By Lucy Frick, Marion County Public Defender Agency
I've been practicing law in Indianapolis for four years, and one of my favorite qualities about the city is how warm and welcoming the legal community is. From law school to my current practice, professors, attorneys and colleagues have guided me in the right direction and have been willing to spend time talking to me when I needed advice. I've been a public defender since I graduated from law school, and I have found criminal law attorneys especially collegial and close-knit. I was interested in hearing another attorney's perspective on the criminal law community and wanted to speak with someone who had practiced both as a prosecutor and a criminal defense attorney. Attorney Katie Jackson-Lindsay kindly answered some questions for me. Katie began her career as a deputy prosecutor for the Marion County Prosecutor's Office, where she spent more than five years. She established her criminal defense firm Jackson Legal Services in 2013 and provides representation all over the state of Indiana.
Note: The following interview was edited for length.
What do professionalism and collegiality mean to you?
Professionalism means doing what is expected and required of us by our Rules of Professional Conduct while also maintaining our commitment to the parties we represent. However, collegiality means something different altogether. Collegiality is working toward a common goal while maintaining respect for one another. We don't have to like each other; however, being respectful includes trying your hardest to be pleasant. You can reach a goal much more efficiently when everyone works to maintain a pleasant working atmosphere.
Has your perspective on professionalism changed since becoming a defense attorney after serving as a prosecutor?
My perspective on professionalism has remained constant and I have always taken professionalism very seriously. I have always believed that prosecutors have a much greater burden (literally and figuratively). While both sides have an obligation to follow the Rules of Professional Conduct, the state has a higher moral burden. A prosecutor's duty is to seek the truth. Sometimes that means prosecutors take actions that may not work out in favor of a victim because that is what justice requires. Prosecutors are tasked with protecting all parties, as opposed to just the client that a defense attorney is responsible for. I have always believed this, and when I worked as a prosecutor I believed that my colleagues believed this too. What I have learned by working as a defense attorney is that this sentiment is not always shared by both sides.
Is there something you wish you would have done differently as a prosecutor? Is there something you're proud you did well?
As a prosecutor, a big part of your role is to make a recommendation about the appropriate sentence for convicted defendants. One thing I would have done differently is to put more thought into that process. When you begin your career as a prosecutor, you are naturally victim-centered and it is easy to focus solely on how your work will affect that person. As a defense attorney, you are more connected to the far-reaching consequences of a defendant's actions. Defense attorneys also have a better understanding of what will rehabilitate a client and reduce recidivism and a clear picture of how innocent people, like dependents, will be harmed. I wish I had the perspective that I have now when I was a prosecutor.
The thing that I am most proud of from working as a prosecutor is that I was honest and fair. I was a domestic violence and sex crimes prosecutor. Both are challenging caseloads to carry. I am proud that I always sought the truth and what I believed was appropriate, even when it was not popular to either side.
Is there something you wish defense attorneys had done better when you were a prosecutor? Are there things you thought defense attorneys did well?
My biggest gripe with defense attorneys when I was a prosecutor was when they were unprepared for a trial or other proceeding. We all inevitably fall behind considering the workload of our criminal legal community. However, I think we all have a responsibility not to take on more than we can handle, and to be transparent about needing additional time.
The defense attorneys that I enjoyed working with the most were those that were open and honest about their goal for a case. I appreciated attorneys who told me from the outset, "My client will never plead — we will go to trial." Everyone's goal was clear from the beginning and we could prepare accordingly. There is no benefit when either side "hides the ball."
What do you think the criminal law community does well? Does it feel like a collegial community to you?
We work well together as a community. Those of us who have worked together for some time treat each other as co-workers regardless of whether we share an office or are on opposite sides. It absolutely feels like a collegial community. While we are adversaries in the courtroom, we are on same team for Indianapolis Bar Foundation Trivia Night. After a very difficult trial last fall, the prosecutors opposing me asked me to dinner to decompress. I could not have been more grateful for that invitation. In this legal community, we are a family. We don't always agree and sometimes, frankly, don't like each other, but we respect each other and we work together to get the job done.
What would you like to see change?
We are in a season where we are experiencing extremely high turnover in our legal community. One thing that we can all do better is to impress upon newer attorneys the importance of collegiality and our legal community's commitment to pleasant and respectful working relationships. It's natural to be a brand new lawyer and believe you cannot be pleasant to your adversary without being disloyal to your cause. However, in this community we have shown that to be untrue, and I would like to see us encourage our new colleagues to continue that tradition.•
Please enable JavaScript to view this content.