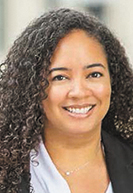 By Morgan Decker, Rubin & Levin PC
Most, if not all of us, have experienced a shift in how we attend hearings, interact with clients and generally practice law due to the COVID-19 pandemic. While some facets of our virtual practice areas are convenient and have improved our efficiency, it is still necessary to consider how this ease can leave attorneys unguarded and subject to exposure.
Rule 1.1 of the Indiana Rules of Professional Conduct provides, "A lawyer shall provide competent representation to a client." Ind. Professional Conduct Rule 1.1. Comment 6 specifically requires a lawyer to keep abreast of changes in the law and its practice, including the benefits and risks associated with the technology relevant to the lawyer's practice.
Whether it's showing up to a Zoom hearing with the cat filter on or emailing opposing counsel instead of client while working on a matter, there are times we need to slow down, take a second and think before a worst-case scenario comes to fruition.
If you are a small or solo law firm, chances are you are emailing, printing and interacting with clients more than some of your counterparts. Forwarding emails to multiple parties (or even a hotel's front desk for printing) can constitute a waiver of attorney-client privilege in some extreme cases. Zoom consultations and client meetings are effective and save everyone time and money. However, failing to confirm who is present in the room can create privilege issues as well. While the technology has become an integral part of our lives, make sure you are considering how this access affects our professional rules and roles as attorneys.
Attorneys send emails and attachments to other attorneys, clients and other third parties all the time. It is important to know and understand what kind of threats can arise just by sending and receiving emails. Whenever a link or attachment is unsolicited and looks questionable, take a second and review where the email came from. Is opposing counsel's name AND email address correct on the incoming email? Were you expecting something from your client or is the timing strange? When in doubt, pick up the phone! It can be a phisher's dream that a recognizable name will trick the recipient into downloading a virus. For busy lawyers who work on their own, sometimes using their personal phones and/or devices, it can be easy to miss all the red flags.•
A (nonexhaustive) list of additional tips:
• Don't use public Wi-Fi.
• Regularly update your software and devices.
• Get an antivirus software.
• Hover over names in your inbox to see the actual email addresses when uncertain.
• If a web address gives you pause, google it to see what results.
• Talk to a cybersecurity firm or insurance provider about how else to protect your firm.
• Being aware, staying educated and slowing down (albeit hard in this modern-day world), is key to protecting your system and your client's information.
Please enable JavaScript to view this content.