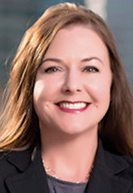 By Elisabeth Edwards, Wanzer Edwards PC
It was March 2020 and the pandemic shutdown was spreading over the Indianapolis Bar members faster than COVID-19. The newly formed IndyBar Public Outreach Committee was preparing for Ask-a-Lawyer and Legal Line, but quickly realized that in-person gatherings could not be possible. Cassie Nielsen and Brett Thomas, co-chairs of the Public Outreach Committee, almost simultaneously came up with the plan to continue to provide legal resources to the Indianapolis area in a virtual format. After some emails with IndyBar Executive Director Julie Armstrong regarding software and feasibility, the Virtual Ask-a-Lawyer Help Desk was born. "It was a real whirlwind, but we had the basic idea pulled together in about five days," says Nielsen.
The dynamic duo knew that numerous legal issues would arise due to COVID-19, particularly in the areas of family law and landlord/tenant law. "People without access to attorneys would be in an even direr situation during this time," says Thomas. The focus of the Virtual Ask-a-Lawyer was to provide a place for people to get real help, direction and referrals, especially as the full impact of COVID-19 was shuttering businesses and causing waves of unemployment. At the time the project was born, Gov. Eric Holcomb and the Indiana Supreme Court had not yet provided guidance in these areas. The virtual program was envisioned as a short-term stopgap during the early days of the pandemic, but with access to courts still limited in some areas, the program continues to assist Hoosiers even beyond the Central Indiana area, while appropriately socially distancing.
The Virtual Help Desk is sponsored by the Indianapolis Bar Foundation and currently monitored by Associate Executive Director Kari Hartman. Volunteer attorneys to the program agree to volunteer for a day or even an hour and are available to answer questions using an online chat feature. Every volunteer has access to the IndyBar "Commonly Asked Questions" guide in case the questions do not fall within an area of law in which the volunteer is familiar. While the goal is to provide information and resources to the public, Nielsen says that more often, the attorney is simply listening, validating the individual's concerns and letting people know that someone cares. "Speaking with an attorney, there's a level of trust there. It just makes people feel better," says Nielsen. Thomas added, "Lawyers can't abandon communication with the public when they are needed the most right now. We can't sit by and see the world on fire and not try to help. Our community can't thrive until everyone is thriving." Nielsen and Thomas also expressed tremendous gratitude to all the volunteers. "It's inspiring that volunteers continue to step up for this program," says Nielsen.
The program is currently active from Monday through Friday from 9 a.m. through 5 p.m. To date, since May 2020, more than 100 attorneys have volunteered through the virtual desk and over the telephone to provide answers to more than 1,352 questions.
So, what's next for the Public Outreach Committee? Nielsen and Thomas have focused on providing information regarding voter registration and filling the need for Marion County poll workers. "We really need quality volunteers like IndyBar members to help ensure a safe, accessible election for voters this year," says Thomas. Attorneys interested in volunteering for the Virtual Help Desk should contact Kari Hartman ([email protected]) for available time slots, and should contact Brett Thomas ([email protected]) to help on Election Day.
In addition, the IBF is looking forward to its third annual Day of Giving, scheduled for Oct. 21, 2020. The Day of Giving goal is $35,000, which is needed for the IBF to continue to provide grants to local legal service providers and direct access legal assistance, such as the Virtual Help Desk. With fundraising efforts going virtual due to COVID-19, this Day of Giving is more important than ever. •
Please enable JavaScript to view this content.