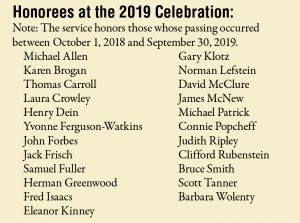 Each fall, the IndyBar remembers, honors, and celebrates the lives of members of the profession who passed away during the previous year (October 1, 2018 to September 1, 2019). Judge Steven Eichholtz and Commissioner Kelly Scanlan will moderate our service and will be joined by members of the judiciary and leaders of the Indianapolis Bar Association in conducting our celebration. Following the Nov. 14 ceremony, an informal reception will be held in the Supreme Court lobby.
This is a special opportunity to join with those who have recently lost a family member, colleague, or friend. Registration is appreciated but not required. You can register online at indybar.org/memorial.
The IndyBar's Helping Enrich Attorneys Lives (HEAL) Committee appreciates your assistance in its efforts. Please let us know of any colleagues who pass away during the year who should be memorialized. Also, if you are interested in serving on the committee to help plan the memorial and compile the memorial booklet, we would welcome your participation.
For more information, please contact Executive Director Julie Armstrong at [email protected] or 317-269-2000.
Please enable JavaScript to view this content.