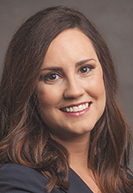 By Elizabeth Walker, Becker Bouwkamp Walker PC
2020 has been a year full of new challenges but also new opportunities. The event planning and fundraising efforts of the Indianapolis Bar Association and Foundation are no exception! It has been tough to rethink events for an association that thrives on personal relationships in a largely virtual world. Many members have yet to visit the new IndyBarHQ in person. The Bench Bar Conference was modified and held remotely. All receptions were canceled. CLEs have been hosted via Zoom. And now, the final devastating blow: "law prom" has been cancelled. (Of course, we're talking about the Indianapolis Bar Foundation (IndyBar Foundation) annual Evening Under the Stars Gala & Auction.) While these types of events may not be deemed "essential business" under the governor's reopening plan, they are essential to making sure the IndyBar Foundation is able to continue with its charitable work. In 2020, your contributions to the IndyBar Foundation (both time and monetary) are more important than ever. Why? The members of the community and our profession who depend on the various charitable programs and services the Indianapolis Bar Association and Foundation offer are all too often those hit hardest by the COVID-19 pandemic.
In 2019, the IndyBar Foundation worked to revamp the Evening Under the Stars Gala. As with all fundraising events, the success of the 2019 gala was dependent on the engagement of our members. This year, the IndyBar Foundation Board of Directors was forced to consider how to maintain this annual fundraiser in a safe format. For 2020 (and likely 2021,) in lieu of the annual gala, the IndyBar Foundation will host an online holiday auction: IndyBar's Giving. This special event will take place during the week of Thanksgiving in an effort to kick-start holiday shopping and get members into the holiday spirit.

As the holidays approach and the crowds (may) begin to thicken at the stores, we hope you'll plan to take time to check out our online holiday auction to purchase gifts for your family and friends. This will allow you to support the IndyBar Foundation and our community from the safety and comfort of your home! The online auction will feature holiday baskets and décor, toys and gift certificates to local businesses. There are also vacation packages to socially distant locations. Without the cost of a ticket to "law prom" or the need to buy a new dress or tux, we are hopeful that our members will instead support this new endeavor. While the auction items aren't quite ready, you can see more information on IndyBar's Giving at indybar.org/barsgiving.
If you are interested in making a donation to the IndyBar's Giving event, please contact Biz Eichholtz Walker at [email protected]•
Please enable JavaScript to view this content.